Passing Blustery Showers
by
ericavanhorn
23 April Tuesday
It is sometimes hard to tell people who do not live in the country how much death there is out here. Last night I woke to the sounds of a screaming struggle just under the bedroom window. There was a final high-pitched shriek followed by complete silence. A fox had killed a rabbit. These are familiar noises. I am sorry that I know these sounds so well. The shrieking makes my heart race with fear and with helplessness. The rabbit cannot help what is happening to her and I can do nothing at all to help. Even hearing the sounds means that it is already too late. There was no sign of the struggle in the morning. Instead, I found a dead mouse in the book barn. He was caught in a trap under the table. His body was swollen and smelly. This was not a recent death. Just outside and near the door I found a dead bird. Some other creature had torn the front of the bird open and ripped out his organs. There were feathers everywhere. I walked up the path later and found a tiny rabbit with its head bitten off. I expected to see the head further along the path but I did not. There is not always so much death visible in one day. In between all the corpses, I am finding many broken eggs of varying shades of blue. Thrush eggs  and blackbird eggs and probably others I am not able to name. Young birds are popping out everywhere. The pieces of shell and the sky filled with birdsong make all of the death seem less grim.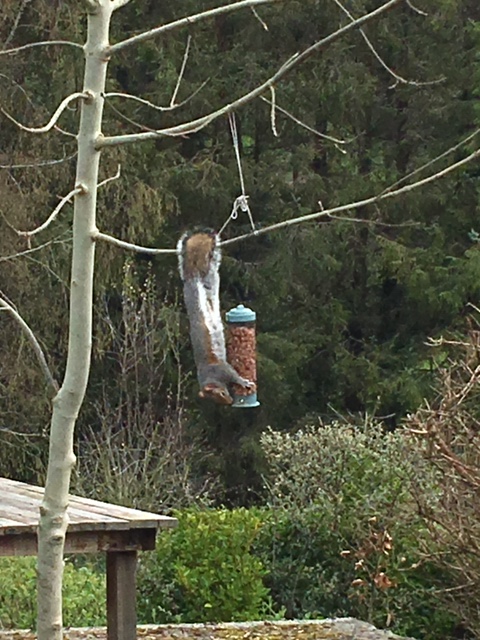 24 April Wednesday
There is a grey squirrel at the bird feeder. As a result the birds hardly have a chance to get at the nuts. This squirrel has found a way to crawl out onto a thin branch and to balance himself upside down while gnawing at the side of the feeder. This is a new thing. We have never seen grey squirrels here. I thought maybe it was just me who had not noticed them but everyone says the same. And now that we acknowledge them we understand that this is not good news.  It is bad news. The grey squirrel is an invasive species that pushes out the native red squirrels by eating the same things as the red squirrels but eating them before the red squirrels can digest them properly and by bringing diseases which eventually kill off the red squirrel population. Grey squirrels are not native. They were brought to Ireland from England and have spread slowly throughout the entire country. They are almost everywhere but not quite everywhere yet. 100 years ago, six pairs of grey squirrels were brought to a castle in County Longford as a wedding gift. It is difficult to imagine someone thinking that twelve grey squirrels would make the perfect wedding present.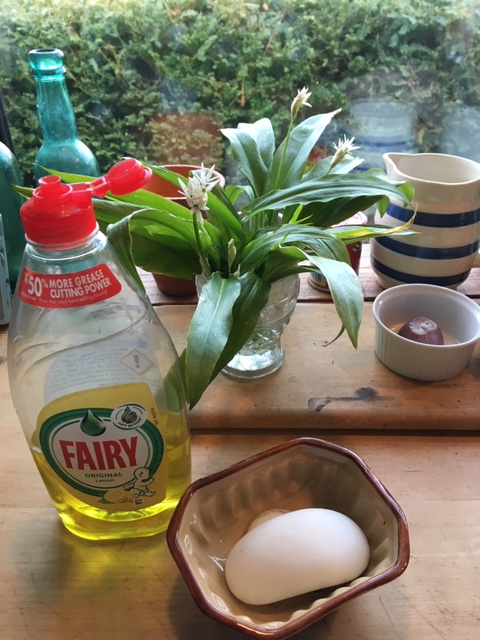 25 April Thursday
It is a fact that when any workman comes to wash his hands at the kitchen sink, he always reaches for the washing-up liquid. The washing-up liquid can be sitting exactly beside the bar of soap but no one ever uses the hand soap.
26 April Friday
The young man told Anthony: "I gave him a Crossbar!" I heard this and I imagined a great whack with an iron bar. I imagined violence and blood. I imagined a hearty beating. I was relieved to be told that Giving A Crossbar was nothing more than providing someone with a sideways seat on the crossbar of a bicycle.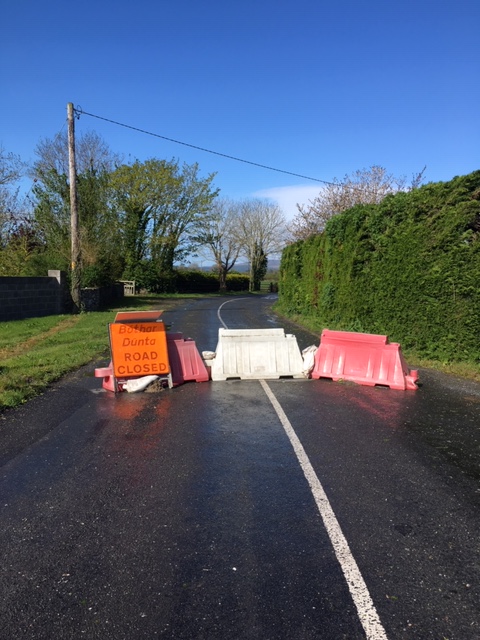 27 April Saturday
Friday was really cold. We spent the entire day anticipating the arrival of Storm Hannah. The winds were ferocious well before anything  had even started. The radio advised everyone to stay at home for six hours starting from 6 o'clock. We were also told to stay well out of the way of power lines and falling trees. Some places were given an Amber Warning. Western parts of the country were given a Red Warning. We knew there was a good chance that we would probably lose our electricity. It was a good night to be going nowhere.
By this morning the worst of the storm was over.  The sun was out and it was bright and cold. The winds were still wild. As expected, the west of the country got hit badly as Hannah blew in off the Atlantic. Our local damages were small in comparison. It took us a lot of driving and detouring and backing up and turning around to get to Cahir but we were determined to get to the market. There was a large tree down on the Ardfinnan road. We were told that the tree knocked down the power lines and took out the electricity for most of the village. Big branches and small branches were strewn everywhere. Flower pots and buckets and garden furniture have been blown all over the place. The Castle car park was littered with geraniums and other bedding plants that had blown right out of the soil. Everyone was discussing who had power and who did not have power.  The market stalls were all pushed up against the wall for protection from the wind.
Jim started to tell me about Speedy and Rattles, two brothers who live close to him. Their elderly mother lives not far from the brothers and she lost her electricity last night. Speedy works for the ESB so he knew just where to go and what to do to get his mother's power back on. He jumped on his bike and sped off into the wind. Jim never finished the story because one of the market tables full of scones and bread and cakes blew down and we all rushed to help to set it back upright and to save the baked goods. I would like to hear the end of the story but until I do I have been enjoying the names Speedy and Rattles in between the Passing Blustery Showers which we were promised.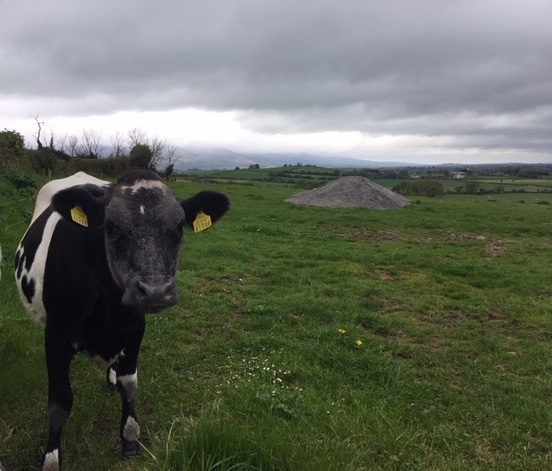 28 April Sunday
Large piles of grey stuff have been dumped in various fields. Every time that I see these piles I am startled and I worry that cement has been dumped in someone's field. I think it is cement because it looks like cement but it is not cement. It is agricultural lime for spreading over pasture fields.
29 April Monday
I am distracted just now by Simon on the phone to FedEx about a parcel pick-up. The person on the other end of the line is somewhere in England. The person does not know where Tipperary is. Simon explains to him or her that Tipperary is in the Republic of Ireland. That does not seem to help. He cannot believe that this person has never heard of Tipperary. He explains that there is even a song about it. He asks if the person has never even heard this song. Now he is singing the song. Simon is singing Its a Long Way to Tipperary over the telephone to the FedEx person in England. I doubt it will help.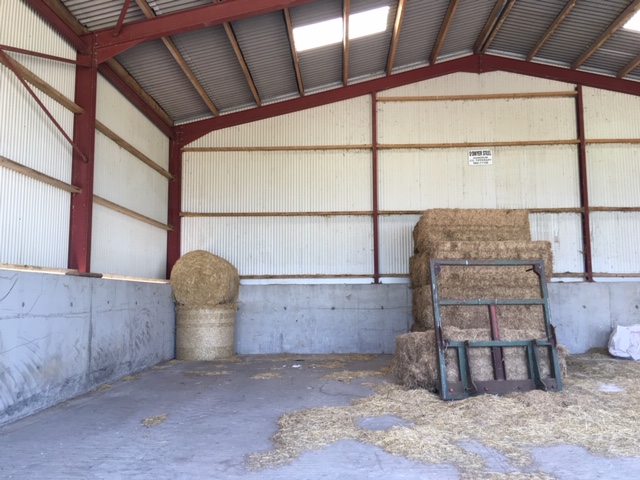 30 April Tuesday
Hay barns everywhere are empty or they are nearly empty. There is not much left to offer to hungry cows. The cattle are mostly out in the fields but when the weather gets bad they disappear back into barns and under the roof for a day or two. It is like this spring cannot decide to settle.