Patients Walking
by
ericavanhorn
19 August Monday
The town did not really get going until 10. I had been dropped off at 8.45. It was hard to find anything open. It was difficult to find even a cup of coffee. The few people around looked happy, but dazed. There was a lot of broken glass on the pavements. The shopkeepers sweeping up the glass were all in buoyant moods. The smell of beer and urine was everywhere. The door of a phone booth was held open with an entire case of empty Bulmer's cider bottles. As the town woke up and more people appeared on the streets, everyone was discussing where they had been for yesterday's match. Tipperary won. Many people watched from here and many went up to Dublin. It is important to mark where one was on such a momentous occasion. The overpricing of tickets is still being commented upon.
Now the primary topic of conversation is no longer rain. It is The Win. Now the question is:
"Will ye go to Thurles tonight?"
"Will ye be driving up for the welcoming parade?"
"It will be mobbed of course it will" is what everyone says, but each person declares that of course they cannot miss it.
There is so much ritual. Today I learned about the hospital visits with the Liam MacCarthy Cup. The winning team made visits to the two childrens' hospitals in Dublin. This is apparently a yearly ritual for every winning team of the All-Ireland. It happens like clockwork the day after the match. The entire team goes in and shows the Liam McCarthy to the ailing children. There is a lot of posing of team members with children in their pyjamas and with the Liam MacCarthy. It does not matter if the children are from Tipperary nor if the children even like the game of hurling. This is the first time I have heard of this visit.
The radio is full of cancellations. Bingo and many other things all over will be cancelled as the whole county will be rushing to Thurles for the big victory parade and party at the stadium. I will be glad when I do not need to pay any more attention to all of this. There will always be more detail. I will never know enough to know all of it.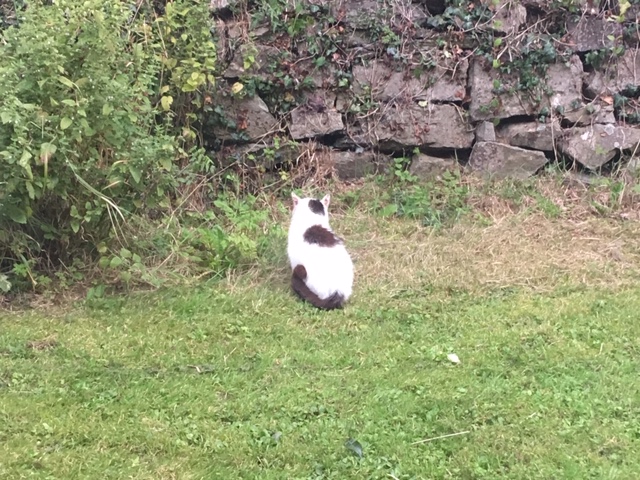 21 August Wednesday
The black and white farm cat spends a lot of time looking at the wall. It is waiting for shrews or rats or mice or whatever rodent is living in the spaces between the stones. The cat can wait for hours without moving. The grass in the center of the boreen is high. Sometimes this same cat sits in the tall grass exactly in the middle and it refuses to move even when confronted with a car. It snarls and hisses at the motorcar as if there is a chance it can win. Today it tucked itself down flat as if that might make itself invisible. It almost worked. I think I could have driven over the cat without doing damage to it when it was tucked down low and tight to the ground like that but I am a bit nervous to try it. This is not a likeable cat but still, I do not want to kill it.
22 August Thursday
Derek the Post said he had seen John at a funeral. John was our former postman. He is now retired. He has been ill for a long time but he was fit enough to attend a co-workers funeral. Derek said John was not looking good but at least he was there. Derek said it was a great funeral. He said they gave their fellow postman a grand send-off.  He said, "Give me a funeral over a wedding any day. At least you can have fun at a funeral."
24 August Saturday
Kathleen gave me news of her grandsons. One of them is 16 and he has a summer job. He has been up every morning at 6 am to milk 250 cows.  She says that he is loving every day of it.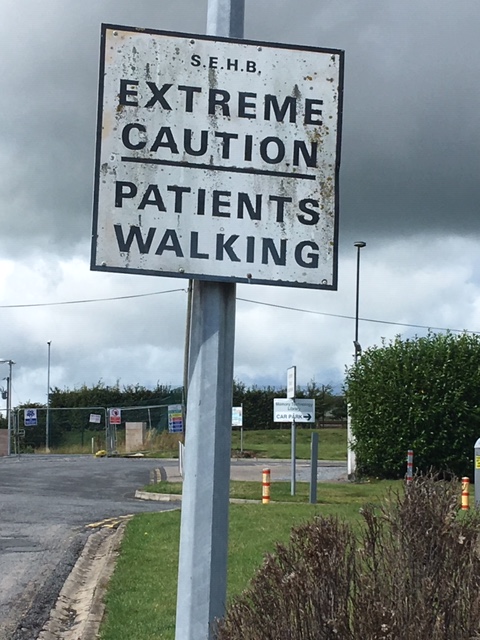 25 August Sunday
Tommie was away in hospital for three weeks but now he is home again. He is glad to be back at home. He says that he is still weak. He is happiest when he is sitting down or lying down. He says that he is not feeling Too Mighty. Margaret went to stay with her sister while he was in hospital. She is not able to stay alone. Usually she does not go much of anywhere at all, so being at her sister's was a holiday for her. In a normal week she goes to Mass and she goes to have her hair done. These are her two trips out. Sometimes she goes out driving in the car with Tommie but that is not going anywhere. It is just going. The hairdresser has now retired but she continues to do Margaret and three other women who have been her customers for a long time. These women are now invited to go directly to the hairdresser's house. Tommie is proud that Margaret is one of these chosen few.
26 August Monday
Wild damsons are ripening in the boreen but they are too high to reach.  I do not think even a ladder can get me up high enough to pick them.  Wild honeysuckle and blackberries are everywhere in the ditches. My raspberries are ripening by the minute.  I am already picking them twice a day just to keep up with the quantity. Today was the first day that a morning mist was down over everything. I could not see over the fields. I got wet from the dew while picking our breakfast berries. It felt autumnal and it is not even the end of August. I need to go and check up on the apples in Johnnie Mackin's orchard as we have no apples on our own trees. The good news is that the mass path is passable again. It is not clear but it is no longer a tangle and a struggle.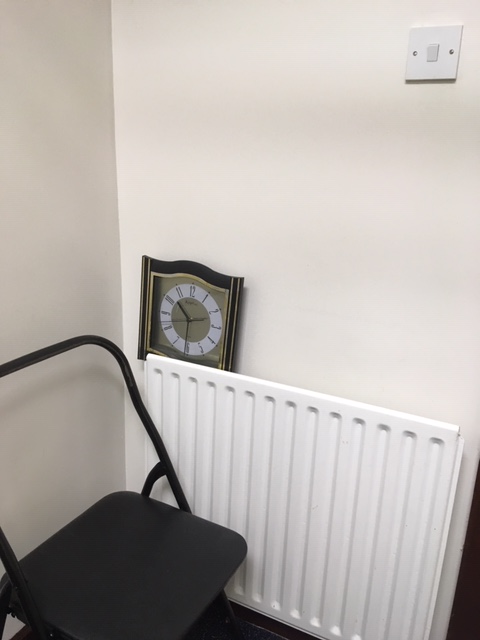 27 August Tuesday
The clock in the room of the dental hygienist remains crammed behind the radiator. It has been in this position for twelve years. A few years ago the room was painted. At some time after the paint was dry, the clock was replaced in the same position behind the radiator. Each time I arrive for a cleaning, I feel I should have brought a nail and a hammer.  I could hang the clock on the wall.  I only remember this plan when I am already reclining on the chair. The door into the room has a rectangle cut into it. Or out of it. This hole has also been there for a long time. The hygienist herself wishes that a window would be installed in the cut-out hole. She wishes the hole would be finished off in a tidy fashion.  My theory is that the hole remains a hole because it allows some air into an otherwise airless room.