Disembodied Hands
by
ericavanhorn
9 October Wednesday
Alistair visited from Orkney. We walked together up the mass path and stopped to collect horse chestnuts the top. I was filling my pockets with bright shiny conkers and he was collecting the ones barely visible and still in their prickly outer husks. He told me that there are no horse chestnut trees on Orkney. He was gathering a selection of the spiky leathery capsules to show to his grandson who has never seen horse chestnuts. Now I think of Alistair's grandson every time I pass whatever bounty the tree has dropped since I last walked that way. I do not know the name of this little boy.  I think of him as Alistair's grandson. Today I was bending down and collecting a few more chestnuts when I was thumped from behind and knocked to my knees. It was Jessie the new dog at the Shine's house. Jessie is another one of those names that people give to dogs but rarely to people. There is always another female dog called Jessie. This Jessie is a St Bernard puppy. At five months old, she is already the size of a small pony and she loves to jump up on people. She has no idea how strong she is. I dread to think how big she will be when she is fully grown.
10 October Thursday
His appointment with the nurse was cancelled due to A Bereavement. He will have to wait God only knows how long for another appointment. Everything stops for A Bereavement and the How Long part is never clear. Grief is not a finite thing. There might be travel to be considered and there may be obligations. No employer can deny how much time can be taken off work for A Bereavement. I think two or three days are considered normal and after that things are up for negotiation.
11 October Friday
The days are getting cooler and Alma's dog is getting older. The old dog spends most of her day sleeping in the Hot Press. Alma is getting older too so she understands this need for sleep. Alma's biggest worry is that she will close the door to the Hot Press and forget that Susie is inside.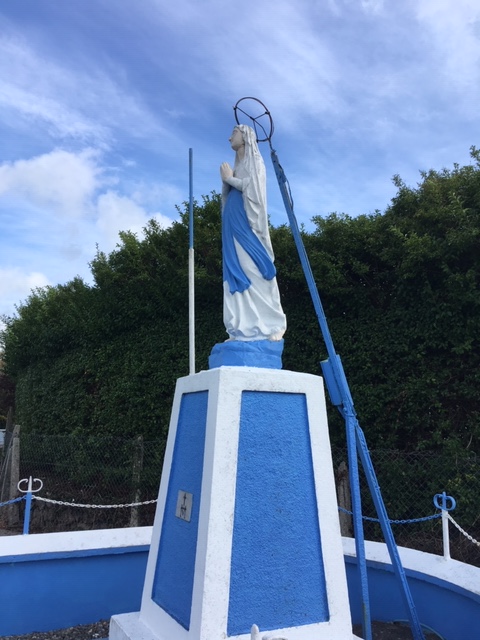 12 October Saturday
A lot of rain. A lot of wet. There is mud everywhere. I drove around the corner and slid from one side of the track to the other. I had no control of the vehicle. The mud was in charge. John watched me slide. When I got out of the car, he said, "You Got Taken."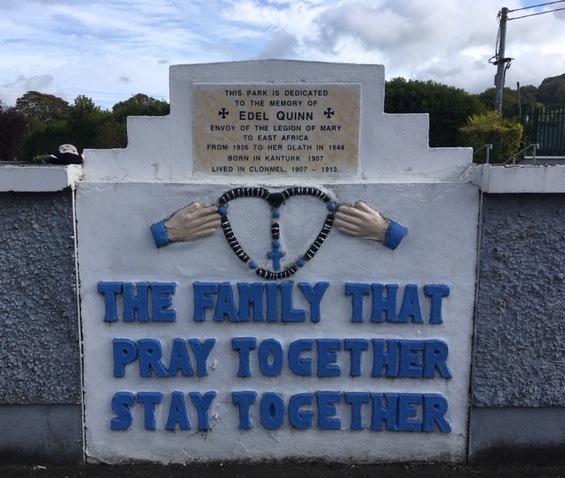 14 October Monday
The announcement is at the entrance to the little park at the Old Bridge. THE FAMILY THAT PRAY TOGETHER STAY TOGETHER is freshly re-painted every year. I love the disembodied hands. The fingers made of concrete get thicker and more stubby looking with each new coat of paint.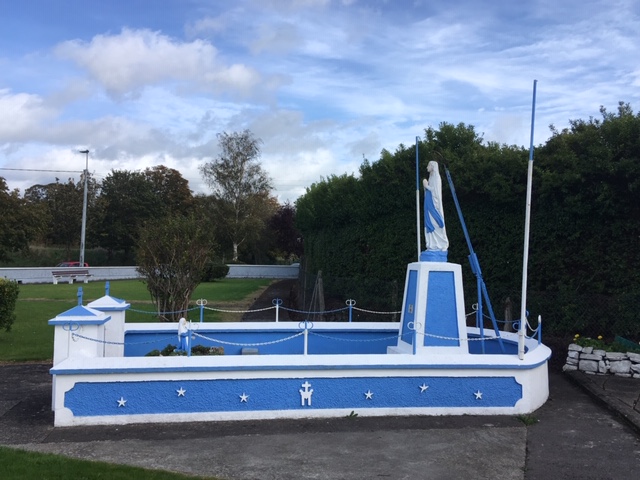 The Virgin and her surrounding structure, which is somewhere between a boat and a bathtub, are also repainted regularly. It is the same shade of blue that is used for any painting of grottoes and statues.  I think of it as Virgin Blue. The stones in the stone wall are painted white.  The halo which used to be a glowing blue neon is now just a wire structure. The glass has been broken and It has not been replaced. If I pass by at night the halo is no longer illuminated but since I remember that it used to be lit, my mind keeps the glow going. The wire looks more like a lampshade than it ever did when it was supporting the neon.