A Two Bird Morning
by
ericavanhorn
12 July Sunday
I was in a hurry. I ran out of the shop, opened the car door and threw my newspapers onto the back seat. As I slammed the door I wondered whose sun hat was on the seat. That was the exact moment when I realised that this was not my car. I re-opened the door, grabbed my papers and apologized to the man sitting in the front seat as I did so. He did not turn around. He mumbled with his mouth full: "You caught me eating The Chocolate. I have been told not to eat The Chocolate." He did not seem at all bothered that I had put my things into his car and that I then took them out again. He was only worried about being caught eating The Chocolate. I never saw his face so he need not worry that I will identify him.
13 July Monday
A Two Bird Morning. The first was a tiny wren who came into the big room and flew into a window and knocked herself out. I took her outside and placed her under a table. She was still there an hour later. I worried that she might be injured, so I placed a jar lid full of water and some crumbs nearby in case she needed sustenance to get herself flying again. Perhaps it was just the shock that kept her there. An hour later I looked to see if she was still there. I moved the water a little closer to where she was sitting and my movements startled her. She made an awkward little stumble and a wobbly flight and disappeared into the rosemary bush. About an hour later, a starling came sweeping into the kitchen, did a quick circuit and rushed out again.
15 July Wednesday
Tommie is back at home. Again. He was rushed into hospital for a second time. He spent another seven days inside. While there he was given a second test for The Covid which he assured me is a most unpleasant thing. He felt that having the test once was painful but twice was unfair. He said it is the fault of his lungs and his breathing but the antibiotics did their job and now he is pleased to be at home again. He claims to have No Big Energy but for the moment he is committed to the idea that his lack of energy is the fault of the heavy grey and humid weather, and not his health. He reported that his new teeth give him a lot of pleasure every single day. He can eat anything at all without fear that he might be swallowing another tooth. He declares that it was money well spent and that these new teeth that Daniel made him are even better than the previous set.
17 July Friday
I had seen a little envelope like this once before. I found it on the ground out in the middle of nowhere. It was from Fourmilewater and it was yellow and white.  I did not know what it was for. Today a neighbour offered me some Dear Little Envelopes from her church. The envelopes are dated and because the dates have expired, she would just be throwing them into the recycling. Because no one has been attending church during the days of the Lockdown, she has a backlog of unused envelopes. She knew I would like them. She knew that they would be a novelty to me. The plain green ones are for the weekly offering. She has loads of those. The ones for special collections have different colours on the top. The three I have been given are for St. Patrick's Day, a Projects and Development Fund and the Diocesan Priests Easter Collection. People attending the church can decide which causes they want to contribute to. There is no obligation to put money into every envelope. There is no obligation, but there is a list. And every envelope has a number. My neighbour's envelopes all have the same number printed onto them. This number is her number. The person who gathers the envelopes together in the Parish office can tell exactly who gave what. They can match the number to a name and keep track of the generosity, or the miserliness, of each Mass-goer. Throwing random coins into a collection basket is an anonymous way to contribute to a church. There is nothing anonymous about the envelope system.
18 July Saturday
There are three different windows in the end of the building. The stone shed was part of the farmyard when Maisie lived there. Her house was torn down and a new one built in its place. The shed with the three unmatched windows remains exactly where it was, even though it is hard to remember it's exact location now without the house to define its spot. It is strong and well-built and the roof is good. These windows were the windows that were available at the time the shed was being built. They were not a decision. They were just there and they did the job.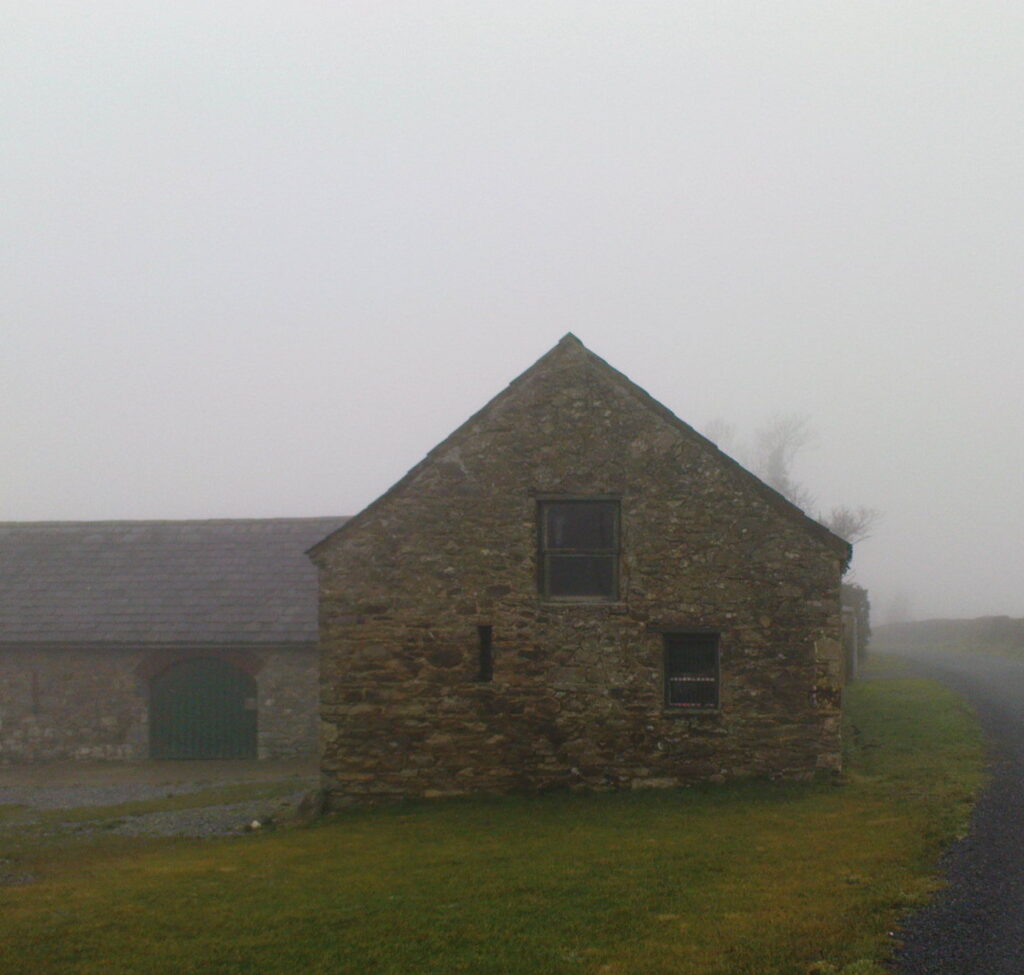 20 July Monday
Tommie was interested to hear of the visit from Pat, the man who came to investigate our wasps. The wasps that were not wasps but honey bees. I said we had been surprised that Pat knew so much about our house and Willie English and his siblings and Johnnie Mackin and everyone else in the vicinity. He snorted and said, "Of course he knows everyone! He Came Up here." Pat had told us that himself, but he did not tell us that he was Aidan's brother. I asked Tommie how I could ever have known that Aidan and Pat were brothers. He said that everyone knows that. I reminded him that of course I did not grow up here myself. I did not Come Up Here. I do not know all of the extended families of every single person whose home place is here. He remained scornful. He told me that I have been here long enough to know these things for myself.
21 July Tuesday
I am picking blackcurrants every other day. The bushes keep producing. The figs are ripening. Both the birds and I are keeping careful track of them. Raspberries promise to be abundant, but the apple trees are not doing very well. Nor the wild plums. Meadowsweet, Brambles, Herb Robert, Dog Roses and Cranesbill appear everywhere. After the seasonal massacre with the hedge-cutting machine, the honeysuckle is again crawling over the ditches and smelling sweet. Ferns. Ferns. Ferns. Everything is growing. Everything is fine.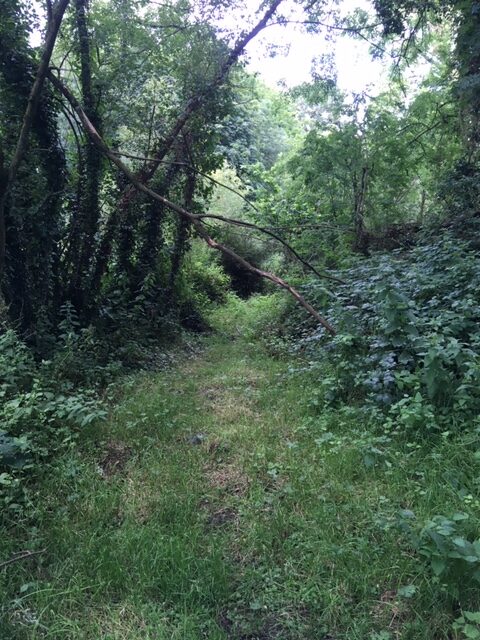 23 July Thursday
We walked out to Lady's Abbey to check on the chair with the red velvet seat. I was delighted to see that it was still in its place and still looking well. There was a man we recognized who was mowing and trimming around the graveyard and the Abbey. He used to work for the council but we could not remember his name. He did not remember our names either, but we all knew that we were known to one another. He clears the grass at the Abbey once or twice a year even though he is not paid to do it. He also does the grounds down at the old Ballybacon church. He was wearing a floor length leather apron totally covered with bits of grass. He said he had wondered about the chair himself. His theory was that probably someone left the chair in the small room so that they could bring it out and sit beside a grave. They then put it away so that it would not be wet the next time they came to sit upon it.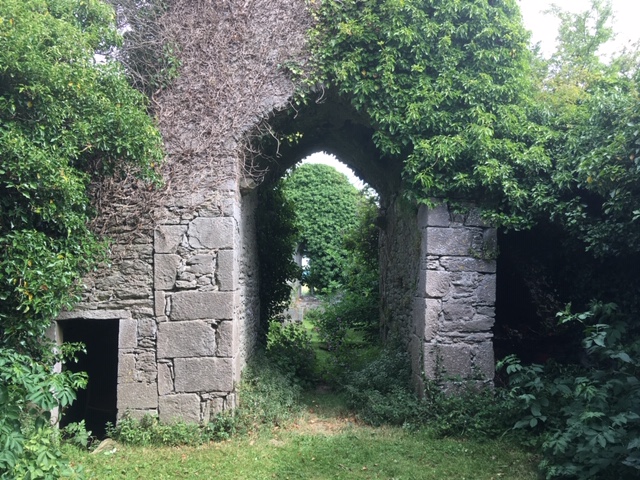 25 July Saturday
Tomorrow is Reek Sunday. This is the traditional day for devout Catholics to climb Croagh Patrick. Every year up to 25,000 pilgrims arrive from all over the country. Local farmers open their fields for parking and there are stands for refreshments and volunteers and ambulances at the ready. Mountain Rescue teams are on hand, as are multiple priests at the top of the mountain saying endless Masses. Some of the pilgrims walk in bare feet and others climb in their Sunday best which is not really appropriate clothing for walking up or down a steep and rocky mountain. Croagh Patrick is exactly the kind of pointed mountain that a child might draw. This year the priests and everyone else in County Mayo are asking people not to come and walk the mountain on Sunday as a crowd because of the Covid but instead to spread their visits out over the summer. Tomorrow there will  be no parking and no priests and no one to rescue anyone if there is an accident. There will be chaos if the pilgrims ignore the advice and arrive anyway.