A Butty Yoke
by
ericavanhorn
22 December Thursday
Tommie and I went to Dunnes's Stores for his pre-Christmas shop. We drove into town early to avoid any crowds. His knee was paining him so he did not enjoy the trip as much as usual. He was glad to have traveled out, but he was gladder still to get home. Once he was settled back in his chair, he was eager to tell me about those people he had met and spoken to in the supermarket. He met one man he used to know through hurling matches a long time ago. He said the man had played for a competing team. He said being on opposite sides made no problem for either of them. The matches had taken place more than seventy years ago.  He was happy enough to converse with that man today. Before I left, he told me that he was glad to be back at home with his dog.  The dog is a needlepoint that Margaret did many years ago. It is used as a fire screen in the daytime when the fire is not yet lit.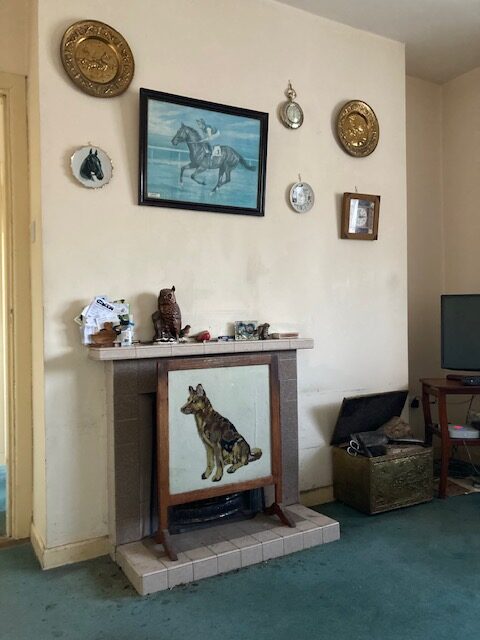 23 December Friday
The Farmers Market took place this morning rather than tomorrow, which is Christmas Eve. It was busy with an air of excitement although we were sorry that the cheese woman was not there. Keith had very little on his stand. He had a few boxes of eggs and some apples and a lot of beets. The beets looked shiny. I went closer to take a look. I thought perhaps he had polished them but even as I thought it I could not believe that was possible. They were not polished but they had been scrubbed clean. They had been scrubbed so hard that the skins were rubbed off and the beets did indeed look polished. He said that the beets had been heavy with clay and barely recognizable as beets. He said they looked like clods of earth, so he washed them to make them look better. Three years ago, Keith was selling beautiful tulips grown by his wife but he had cut all of the leaves off every stem. He said cutting off the leaves made the tulips last longer. I said that I wanted leaves on my tulips and I suggested he could just let people make their own decision about leaves or no leaves.
Keith has been selling flowers and vegetables and eggs at the Farmers Market for more than ten years. He works very hard but he is not a natural. He is not a natural grower, nor vendor nor raiser of chickens. He is always the last one to arrive at the market and the last one to get his tables set up. We all bring our egg cartons to him for re-use. He and his wife make a tiny little printed label to put into each box of eggs that he sells. The label is made of two small pieces of paper, cut carefully with pinking shears and glued together with the date hand-written. The printed note may give the Best Before date, or it might be the day that the eggs were laid. It is not clear what the date represents. Making a tiny label for each box, one at a time, is at least as labour-intensive as the one-on-one visiting time he tries to spend with each of his chickens every single day.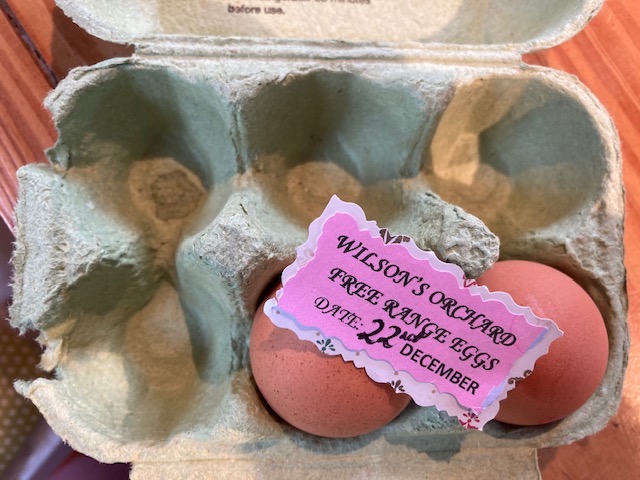 26 December Monday
Whenever I open the kitchen door, Mary tumbles into the house. She sits out there pressing her entire body into the wood of the door. If it were sunny, I would think she is basking in the reflected heat of the door, but it is grey and bitterly cold. There is no warmth to be found from the wooden surface. I think instead she is listening and trying to be ready for when and if we remember to feed her. She does not appear every day now so I am not so regular about putting food out for her,  but if she does not eat it, the fox does.
28 December Wednesday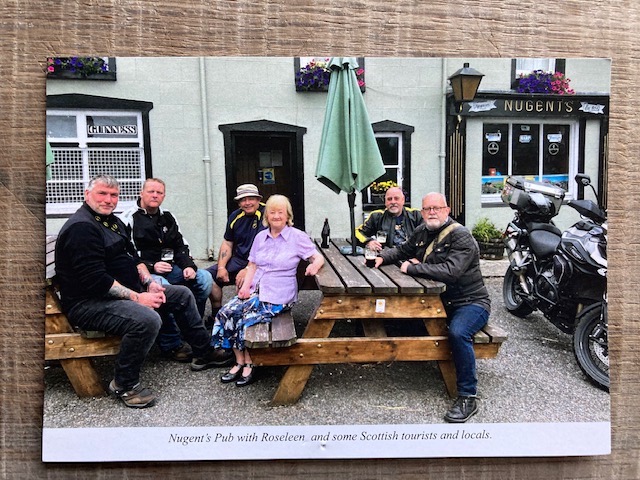 29 December Thursday
I have been keeping an eye on the Historical Society's postcard supplies, purchasing a new one almost every time I visit the shop. I was delighted to buy two new ones today. One card shows Rose in front of the pub with some Scottish tourists and other one shows her with a crowd of local bikers.  They all like to stop there when they are out for a spin.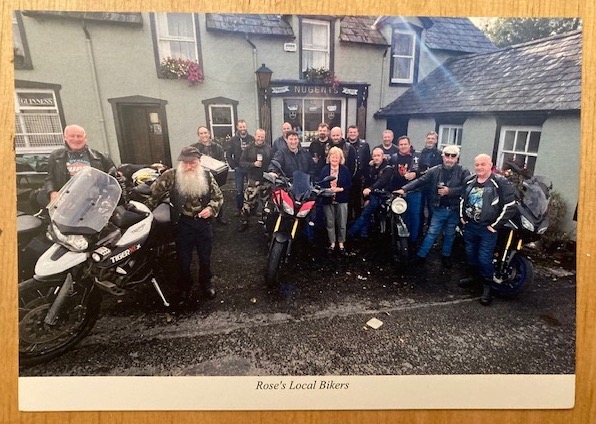 30 December Friday
The ground has thawed and there is mud everywhere. The bull in Joe's front field stands for hours and hours ankle deep in the mud. If bulls have ankles? He does not seem to mind the cold mud.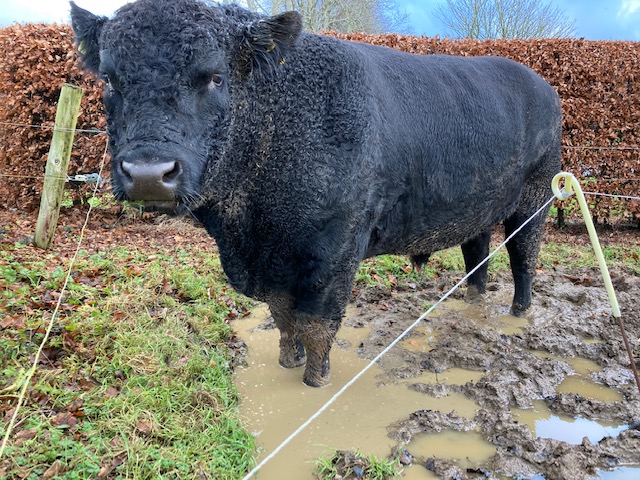 3 January 2023 Tuesday
Breda's horse died last night. His name was Levi. He had a stroke and he could no longer walk. He could not stand. They called the vet and she came to give him an injection to put him to sleep. Breda is heartbroken. Levi was a member of the family and he stayed on and on while various other horses and dogs and cats came and went. He was 36 years old and had been living with Breda for 25 of those years. I never knew that horses could live so long but I guess if they are healthy and well cared for, they do.
5 January Thursday
We had a bonanza load of post delivered today.  It is the first time we have had a delivery since 23 December.
6 January Friday
Epiphany. Twelfth Night. Little Christmas. Women's Christmas. Nollaig na mBan. Today is the last day of Christmas and the day when all decorations and cards and trees and wreathes and lights and every single sign of the holiday period is supposed to come down and be stored away or thrown away. In counties Cork and Kerry the women go out to dinner together to celebrate all of the work they have done over the holiday. In the village, Anthony will move his Tyre Tree on its pallet into the back part of his yard and the greenery draped around it will die. It is the same this year as it was last year and it will be exactly the same again next year.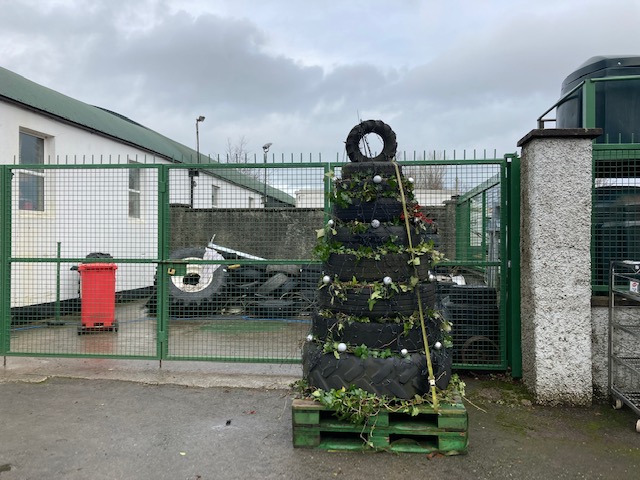 7 January Saturday
Teresa said her newly married grandson had traveled to Rome for his honeymoon and then got caught up in the Pope's funeral.  She said it was not what he and his wife had planned for themselves.
8 January Sunday
A Butty Yoke is a short stubby kind of a person. It is not a complimentary way to describe someone but the description makes for a clear picture.