It is Nice to be Nice.
by
ericavanhorn
7 June Friday
The bee hives from the bee man in Burncourt are back on the tops of Mike's wrecked cars in his work yard. These hives are different from the ones that the same man brought last year. One is covered with tar paper. Another looks like a picnic cooler painted yellow. The third one is just a wooden box with a red top. The bee man is looking to attract a new swarm. None of the boxes have attracted any bees yet. I think this weather is too cold for bees.
8 June Saturday
I went to the vet's office to collect some bubble wrap. They are happy to save the bubble for me as it is a kind of recycling. It is a slow job for me to go through it all and remove the tape from the bunched up bits, but it is free. I try to remind myself that the time I spend untangling and folding up the bubble wrap is cheaper than the money we would spend to buy brand new rolls of it. They seem to have less bubble these days. Maybe the vaccines and the liquids for the cows and horses are being shipped in plastic instead of glass containers. Or maybe there is another reason. Anyway I need to stop in more frequently than I used to and I get less per trip than I used to.
As I waited for the young girl on duty to stuff my bubble into a bin liner, I met a 3 1/2 year old mixed breed Whippet. I fell in love immediately. I have been vaguely looking for a new dog. I have mentioned here and there that I am ready for a new dog. I have mentioned here and there that I am no longer happy to live without a dog. I have mentioned that when I see the dog that is to be my dog, I will know immediately. Seeing this dog gave me that feeling. Unfortunately, this dog was happily owned and loved by the two people with her. But now I have a whole new breed of dog to be looking at and for. I did not know I wanted a Whippet, but now I do.
9 June Sunday
Elderflowers are everywhere. Except when they are not. They look like they are everywhere. The cream colored blossoms are polka-dotted all over the landscape. Everywhere in every direction, there are elderflowers. Their omnipresence is deceptive. The big floppy flowers are all high up on the trees. Today we had a few hours of bright sun in the midst of all the rain and the grey darkness and cold days. When we do get some sun, it is watery sunlight. It is not strong hot sun. I decided I must gather the flowers and make at least one batch of elderflower cordial. The weather forecast is promising ten straight days of rain and no sun. And this on top of all of the cold and sunless days we have already had. I decided I had to use today's sunlight to get the blossoms while I could. Popular wisdom says that blossoms picked in overcast light will make a cordial that smells like cat pee. I did not want to risk that. I went out with clippers and a basket to collect 20 or 25 blossoms, which is not very many. It was really hard to even get that small amount. Everything was high up and way out of my reach. I eventually got my flowers and made my single batch. It was far too difficult. I can only hope the rains move off and I will have a second chance to make more.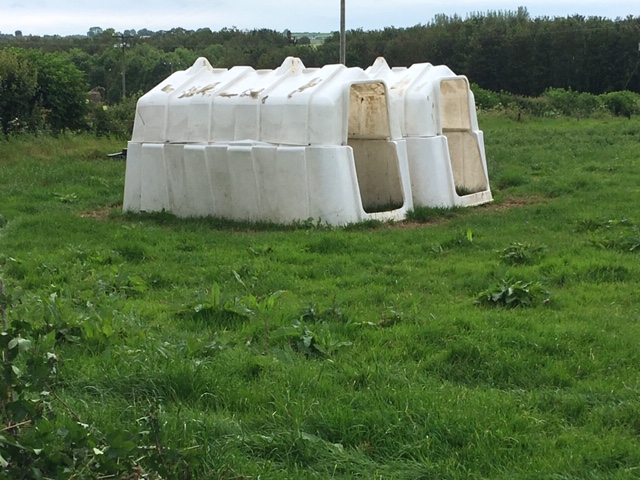 10 June Monday
The tiny calves are together in one field, without their mothers. They have two little white plastic houses to go into to get out of the rain. Or to get their food which might be in there to keep it dry, or to keep it from being blown around. These are the reasons that I thought they have the little houses. Today under a steady soft, but persistent, drizzle, I saw all of the calves huddled in a tight group in a far corner of their field. They were moaning and bellowing together in voices louder than their small bodies seem able for. And they were all wet. So much for my theories about shelter.
11 June Tuesday
A starling is caught in the blind of an old empty house in Irishtown. It must have gone down the chimney and got itself caught in the blind trying to escape out the window and now it is dead. There is not a thing to be done. It is too late for anything to be done. I look at it every time I pass. I try not to look but then I do. It has been hanging there for a long while now. It does not seem to get any more decomposed. It just hangs there. Dead.
12 June Wednesday
I went into town to get a new tax disc for the car. The old one expired at the end of May. We have until the end of June to get a new one. A one month grace period. I was feeling a little bit confused. Maybe this is the old way and things have changed while I failed to notice that they had changed. I felt certain that the one month grace period somehow does not apply any longer and that instead of me being a few weeks early to get my new disc, I am actually a few weeks late. I asked the woman at the counter if this was still the system. She said Yes, of course. I asked her why we are allowed an entire month after the date of expiration. Shouldn't the tax expiring mean that the tax has expired? Why do we get a whole month extra to sort ourselves out? She explained that everyone is always so very busy with things to do and deadlines and life in general, so why should the motor tax office put more pressure on people? Then she added, "And, anyway, it is nice to be nice."