Sheep Racing at 7 o'clock.
by
ericavanhorn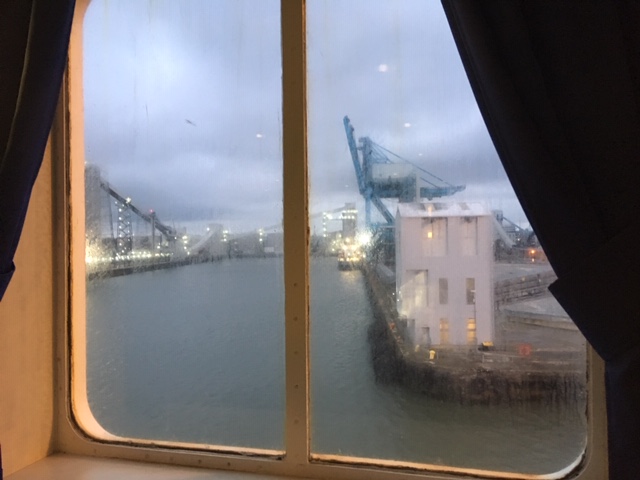 30 July Tuesday
We took the ferry from Liverpool. It was a new way for us to return from England. The boat was mostly freight. There were only a few cars on boat. We were the very last car to board because we drove round and round the area looking for the dock which was not signposted in any way. Everyone had begun to eat when we got upstairs from the vehicle deck. It was 8 o'clock. Our food was included as part of the fare price. We all ate our hearty suppers as the boat prepared to leave and within half an hour of announcing that food was being served, the Phillipino kitchen staff started clearing it all away. Everything was completely gone before we even left the enormous harbour of Liverpool. Most of the truck drivers knew this so they took two helpings of the steamed pudding with loads of custard in case they missed their chance. There were no more than fifteen tables spread between two rooms. Since everyone was eating at the same time it was easy to see that there were not many people on board. In the room where we ate there was a large round table with a few smaller tables close by around the edges. Everyone who sat at the round table was a lorry driver from Northern Ireland. Maybe they all knew each other from earlier crossings. Maybe they did not know each other from earlier crossings. I think the brotherhood of truck drivers means that they did know each other simply by their job. They were all in the same club. They discussed the tiny utilitarian cabins which we had all been assigned. They commented on the narrow little bunks. Several of the men remembered ferries where they had been required to bring their own sheets and pillows along with them. There was a nostalgia about this, either for the time or for where those those journeys had taken them. This ferry did not seem to be of this time, but the drivers were remembering even less modern journeys. We listened to the men discuss their travels. They had all been away to different places and now they were all going home. Being at the center of the room placed both them and their exchanges on stage. The lights started dimming. By 9 o'clock we were all encouraged to head down to our teeny cabins to sleep.
At 5 am, there was a loudspeaker announcement regarding the serving of breakfast. Then a person walked down the corridor tapping twice on each door with a key or some metallic object to make sure we were awake. We heard our own two taps and we heard the tapping continuing down the hallway. We climbed back up the steep ladder-like staircase, where everyone ate porridge and tea and toast. The Northern Irish drivers sat at their round table. No one had had much sleep so it was quieter than it had been the night before. Each of the truckers sat with two or three extra cups of tea at their place. The extras were to carry down to their lorries. We were all down on the vehicle deck by 5.30. The freight drivers lined up their cups on their dashboards. The boat decanted us into Dublin Harbour at 6 o'clock on Sunday morning. Driving through the city has never been so easy.
And we were back at home in Ballybeg before 9, even after a stop in Cahir to buy milk and a few staples.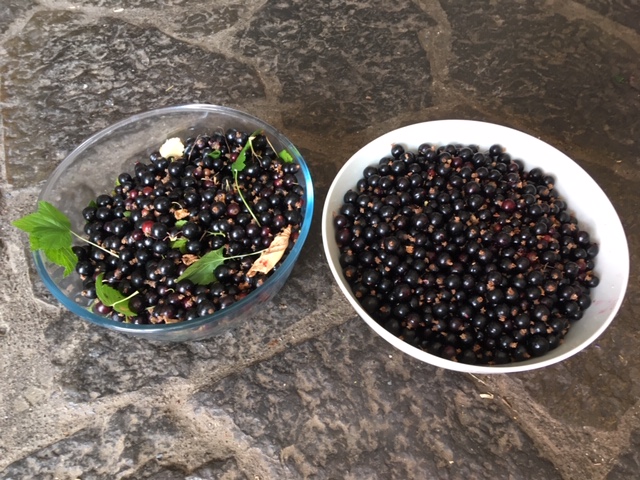 31 July Wednesday
Picking black currants and picking more black currants. The picking does not end. The currants are fat and delicious but I am beginning to wish there were not so many of them.
1 August Thursday
I miss walking up the mass path. It is thick with all of the growth of summer. It is not possible to walk with shorts and short sleeves without being attacked by the nettles and the brambles. Even with long trousers and long sleeves the tangle is winning. I am missing out on a lot of installments of growth and animal movement and bird activity. I do not even know all that I am missing. It will not be long before I am able to move through it all again without too much of a struggle. It will be like no time has passed.
2 August Friday
The room where the wake was being held was not large. There were family members in chairs along two of the walls. The deceased was laid out in a coffin against the wall at the far end of the room. We filed in behind others in the single line and we shook hands with each member of the family. We repeated our condolences and we said "I am sorry for your loss" over and over again. When a person reached the coffin, he or she stopped and crossed themselves. I did not cross myself. I just continued to the next group of family members.  As always, the room was hushed and the lighting was subdued. When we first arrived and before we had been able to enter the room with the family and the dead man we had to wait in a small line. It was not a long line, but first we were out on the pavement in the sunshine and then we stood in a little entry hall. As we were waiting to take our turn an elderly man came out and he shook the hands of each one of us who were waiting to go in. He said, and then repeated again and again, "I will have to die myself to ever be this popular."
3 August Saturday
Maurice told me that the word Áras means large building. It suggests a residential building. An abode. A dwelling. Maybe a castle. He said that the central Bus Station in Dublin which is called Bus Áras is not literally translated as Bus Station but should instead  be The Bus Castle.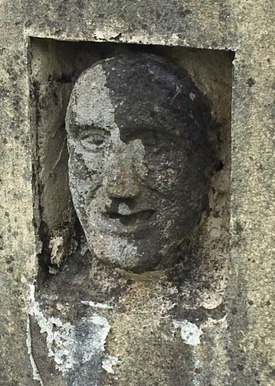 4 August Sunday
I knew there would be rain. I  believed the forecast. The forecast was for The Odd Passing Shower. The forecast promised that the showers would hold off until the afternoon. I walked up and around Knockperry. As usual, I wondered about the carved head installed in someones wall. I always intend to ask someone somewhere about its history. I always forget.  I got two thirds of the way around before the skies opened. I had no rain jacket and there was no shelter up there so I just kept walking. I got soaked through. Not one part of me was dry. There is a small encampment of travellers just before the road drops down. Actually it is just one caravan and one horse trailer and a bunch of stuff scattered around. Two dogs huddled underneath the caravan and watched me walking by in the pouring rain.  I had been told that there was Sheep Racing scheduled for 7 o'clock in Clogheen. I was eager to see how anyone could convince sheep to race against one another, much less run in the same direction, but the rain was so heavy that I never got to Clogheen to find out.
5 August Bank Holiday Monday
People often substitute the word Ye in place of the word You. They use it in conversation and they use it in text messages.  To my ear it sounds almost biblical. (Are ye back yet?) I love hearing it and I love reading it but I cannot use it myself   I cannot incorporate it into my speech.  It would sound false in my mouth.