A Cow With Red Tape on Her Tail.
by
ericavanhorn
21 March Saturday
I love the gate closest to the end of the boreen. It was constructed to follow the uphill slope of the land.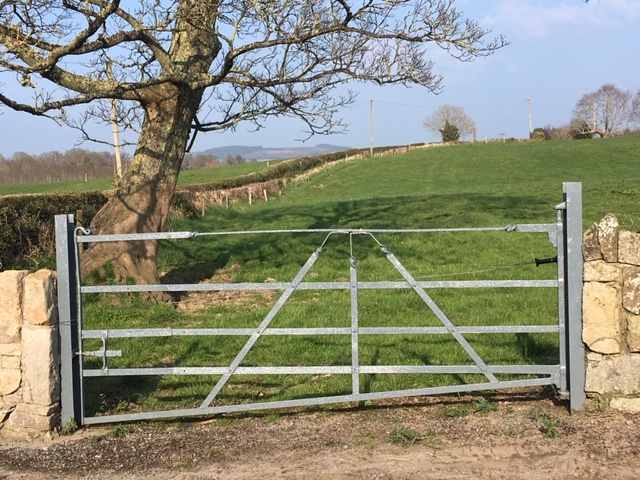 22 March Sunday
I met Breda and Margo up at the Boulders at 11. We each traveled in our own cars and we did not venture near to one another. We walked for three hours following a particular overland route that Breda knew and that Margo wanted to learn. She was tracking us on a new app on her telephone. I was happy with the freedom to walk the mountains without a single thought about where I was going. There was no path. All I had to do was keep Margo in my sights. We saw one man and his dog in the far distance. We saw no one else. Breda kept repeating, "There is Not A Sinner in Sight!" I saw some furry caterpillars curled into circles and nesting in the dry grasses. We saw a lot of sheep, and ten or twelve Belted Galloways in a loose group. The gorse was in bloom everywhere.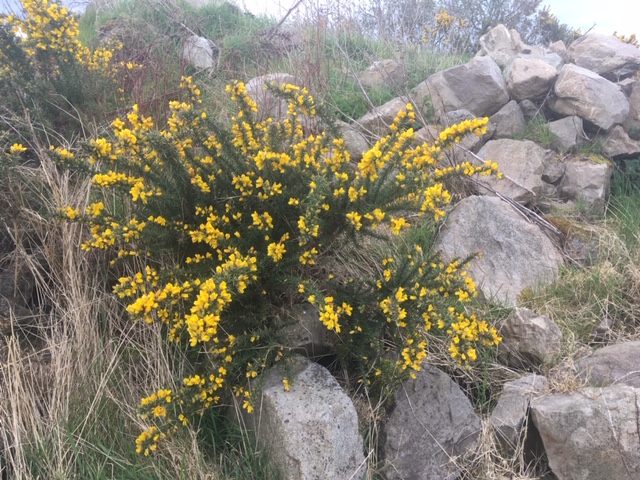 23 March Monday
I found a new cattle ear-tag stuck in the peaty soil up the mountain yesterday. I did not show it to Breda nor to Margo. I knew they would not be interested. I knew Breda would tell me to drop it because it was covered in muck and dirt. I put it in my pocket and today I have washed it. I am delighted to add it to my collection of tags.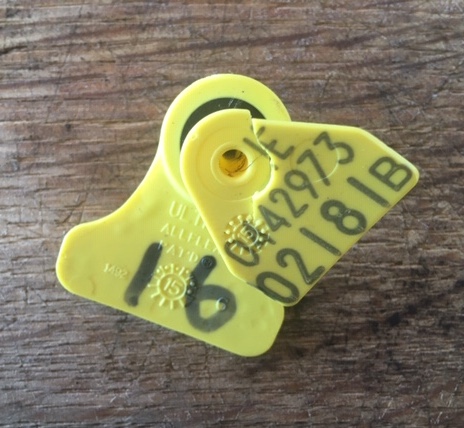 25 March Wednesday
There were cows being led up the road. Rather than wait, I turned up the Knocklofty road on my way home. Seeing a car stopped up ahead, I assumed it must be yet another farmer blocking the road while yet another herd was ready to cross. It was not a normal time of day for the movement of cows so it was odd to be stopped in two places for the same problem. As I neared, I saw that it was not cows. A woman was walking around the outside of her car which was stopped exactly in the middle of the road. She was looking down. I assumed she had a mechanical problem. I drove a bit closer and then I stopped and got out. There was a white-haired lady sitting in the back seat. An old and extremely dirty terrier was wedged under the car on the driver's side. He was not trapped. He was just sitting there with only his head showing. His head was unusually large. The woman said she stopped because the dog was in the road and she did not want to hit him. As soon as she stopped, he dove under her car and now she could not get him out from underneath nor could she get back into the drivers side. He was barring her way. I approached the dog and he bared his teeth and snarled at me. He was ugly and he was vicious. I talked to him nicely and then I lowered my voice and attempted to sound stern. I told him to Go Home. Go Home. Go Home. He snarled and snapped each time I attempted to get closer. At one point, he rushed at me and then he ran around the car and wedged himself in under the other side. A small van pulled up behind my car. I went over and asked the driver if she had any kind of a stick. She got out with a walking stick and a small boy. By now the white haired lady had gotten out of the back seat of the first car. All five of us were keeping our distance from each other and we were all trying to keep an eye on the dog. The woman with the stick pushed at the dog and he scooted underneath the car so that he was completely out of sight. He came running out again and went from one side to the other side returning always to his position of head exposed and body tucked underneath. I ran up the road to the only house in sight to see if the people there knew who owned the dog or maybe if it was their own dog. Two big lazy friendly dogs greeted me in the yard and then they returned to lie down in the sun. They could not be bothered. No one answered the door, so I ran back down the road. Just as I got there the dog rushed out from under the car and into some tall grass. He bared his teeth and snarled at the woman with the stick who had nudged him away. Without a word, we all jumped in our cars and raced off before he could rush out and get underneath one of our vehicles. He was looking for shelter and protection. I have been worrying about this dog all day. I know that he was angry and probably he was scared and hungry and maybe hurt, but I also know that he was vicious and dangerous. I deserted an animal in need. I had no idea what else to do.
26 March Thursday
An Post has given us all postcards. We can post them for free anywhere within the country. It is their gentle idea of a way to keep us in touch with one another. It is a gift to make everyone feel better. Having the postman arrive down the track is like a visit. There are lots of balancing acts. Some of the postmen have to take turns taking care of their children while their wife works. Some of the postmen have fallen ill, or someone in their family has fallen ill. There is only one postman left who knows our rural route but he must also do his own regular route so he delivers to us every other day. Maybe he arrives three times a week or sometimes it is only twice a week. There are never any deliveries on a Saturday. Having things delivered by post is more thrilling than ever.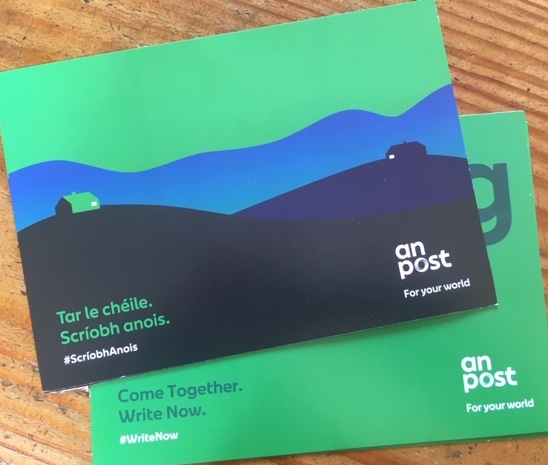 27 March Friday
This year Lent lasts from 26 February to 9 April. Every year I hear people describing or listing what they have given up for Lent. It is only valid if you give up something that you want and you love like butter or chocolate or wine or television. The idea of Lent seems to be to remind yourself that you cannot have everything all of the time. I am surprised that people are still bothering now with this particular denial when all of life has been turned upside down. I find it strange that people are still sticking to their self-imposed restrictions even while so much of life and normal activity have been curtailed from outside forces.
28 March Saturday
We are eating wild garlic at least twice a day. So far it has not been added to breakfast. I keep a jug of it on the counter. It is used as a garnish. It is made into a pesto. It is mixed in some way with just about everything we eat. When I go out to collect more, it is a form of shopping. I must decide where to get my leaves from today. Under an apple tree? Under which apple tree? Near the water butt? Down the edge of the path? These are the decisions that keep me busy.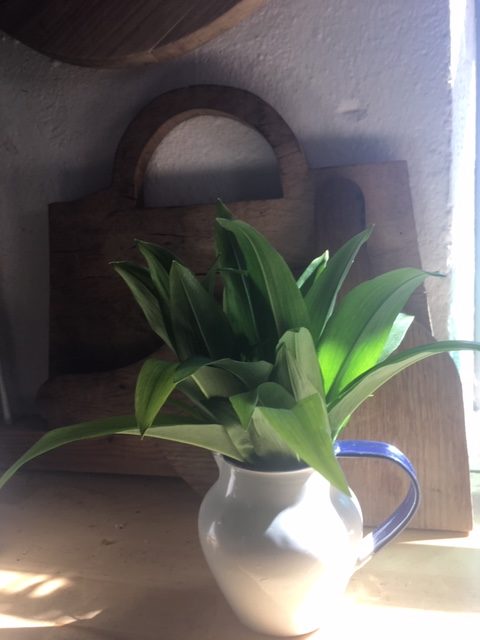 29 March Sunday
We changed our clocks last night. This means that the sun is now setting at 8, but really it is not fully dark until 9.
30 March Monday
We have been walking through Joe's fields but it is hard work. The last time the cows were in the field it must have been extremely wet and muddy. There are deep and varied hoof holes all through the grass. The soil is now dry. The holes are hard. Walking over the fields makes for a lot of lurching and staggering. Without strong boots and a sturdy stick, such a walk is potentially ankle-breaking stuff. It is a relief to get to the long rough track and out of the fields. Every day this week, we have lumbered all through the fields and around on the road and down the boreen to home. It is about a 4 1/2 kilometre walk. Today, we saw only one man on a bicycle and one man in a tractor. Most days we see no one.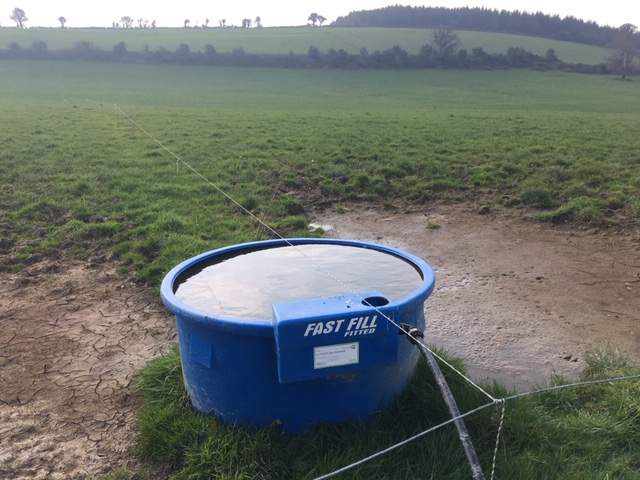 31 March Tuesday
There is a cow in the field of the other Joe. She has red tape on her tail and red tape around each of her back legs. None of the other cows have any red tape. I would like to know what this means and what her problem is. The chances of me bumping into Joe to ask about the tape are slim. I wonder about the cow and her red tape each time I pass. I shall continue to have theories.