Welcome Home Dear Husband.
by
ericavanhorn
3 May Sunday
This morning, I cut Simon's hair out in the garden. I gave him a haircut but I am not yet willing to let him give me a haircut. I placed his hair on the wall for the birds. No nest building material goes to waste in the spring. Everyone is getting haircuts at home. Marianne reported that she had just given Jim a haircut because she said he was looking like A Blown-Over Thistle.
4 May Monday
The weather is dry. It is too dry. The farmers need rain. The crops need some proper soaking rain. We all need more rain. I have a mossy ground cover that I love because it creeps and covers things throughout the garden. Some people hate this plant because they think it is invasive. I cannot think of it as invasive. It is easy to get rid of it. It is easy to tear off a bit if it arrives in an awkward place.  It provides a soft spongy cushion over rocks and hard surfaces. I was looking at a clump of it today and remembering that Tim and Máiréad Robinson gave me a bag full of this plant many years ago. It was rampant in their damp garden in Roundstone. The Connemara climate was perfect for keeping it moist and happy. I brought some home and I have had it growing here ever since. Máiréad told me that the local name for the plant was Welcome Home Dear Husband No Matter How Drunk You May Be. The idea being that if you fell onto the plant after having Taken The Drink, it would soften your landing. Now both Tim and Máiréad have died of the dreadful Covid Virus. I am glad that I have this small living thing to remind me of them. Most people will remember Tim for his wonderful writing. I will, of course, remember that, but I am most happy to have this tiny spreading plant from their garden.  This little plant is impossible to kill.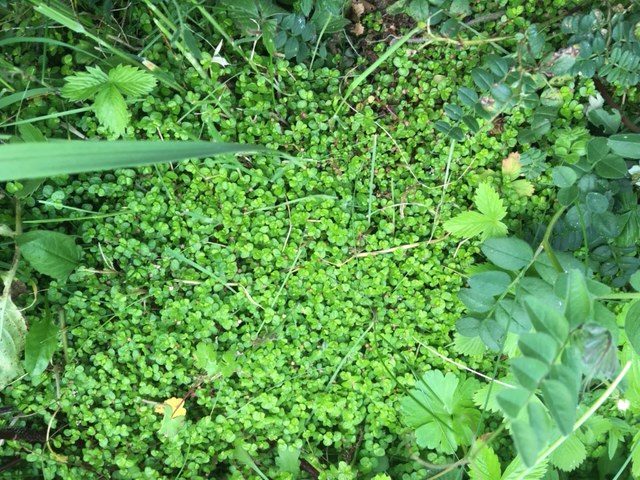 5 May Tuesday
Today our freedom of movement has been extended. We are now permitted to go as far as 5 kilometres from our home to take exercise. This is a big increase from the 2 kilometres we have been restricted to until now. It feels like the whole world has opened up. It feels like anything is possible and that things will get better. I drove up to take the Knockperry walk and to feel closer to the mountains.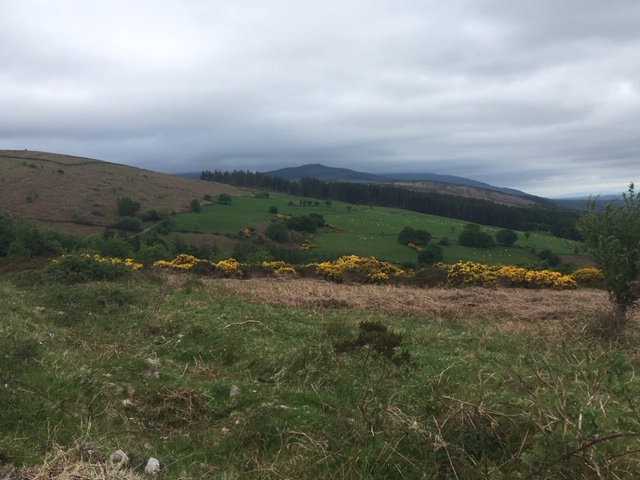 6 May Wednesday
Rat Glass. Rat Rug. Rat Hole. The word Rat has been on my To-Do lists everyday. I know it is hard to live near a farm and not to have rats around. I know it is hard to live anywhere in the world without having rats nearby, visibly or not visibly. I prefer it when they are not visible. On Saturday, I saw a rat disappearing into a hole under the concrete outside the printing shed. Later I went into the print shed and I found that the back wall had completely rotted in one corner. The hole was a big hole. The hole was easily big enough for rat entry and departure, and the old rug on the floor was covered with hundreds of rat droppings. I closed the door to the shed. I have yet to deal with the problem. The next day, I found an enormous rat dead on the grass near the shed. I could not see any wound on him so I do not know how he died. He was much bigger than the first one I saw. I smashed a jar and poured the broken glass down the hole in the rocks. Now I will smash some more glass and place it outside the print shed beside the hole in the wall. Mick instructed me on the broken glass method years ago. It is an ugly solution but rats are an ugly problem. It is too hard to kill them with poison when they are living outdoors. If they can get to water, the poison may not kill them. With Mick's method, when a rat cuts its feet on the broken glass and the other rats smell blood, they gang up and kill the bleeding rat. Very quickly all the rats will avoid the area where the broken glass is so that they do not become the next victims.
7 May Thursday
The postman was sorting letters up against the steering wheel. He had his head bent at an angle and a telephone clamped tight onto his shoulder. He was talking on the phone while sorting and tossing a few things onto the seat beside him. He looked busy and efficient. I was disturbed that he was doing all of this while driving his van down the middle of the road with me coming towards him in the opposite direction.
8 May Friday
I walked around the bend just as the fox jumped down off the banking. We were both startled. He saw me while he was in mid-air and he twisted his body so that as he landed he was already running away. It all happened fast. He was gone in a second. It was almost too quick to recognize what was happening. The fox was young with a shiny dark red-orange coat and a thick and bushy tail.
9 May Saturday
One part of the Saturday ritual that has been maintained in this time of lockdown is porridge for breakfast. It was our habit to order it at the café where it always tasted different from what we make at home. Of late, the At Home version is Pinhead Oatmeal which is far superior to regular oats. The café will never be serving Pinhead, but when we are allowed, we will once again enjoy eating our Saturday breakfast there. We like eating upstairs and looking out at the weir and the castle. It was the whole activity of driving to the village for the papers and then over the back road to Ardfinnan and on to Cahir for breakfast and then to the Farmers Market across the street from the café. We are missing the Farmer's Market. We miss the fresh fish and the cheese and the vendors who have all become friends and the other shoppers too who are our once-a-week friends. Going to the village for the newspapers remains, like porridge, as a Saturday morning constant. Today we woke up to such a thick fog that it was impossible to see as far as the place where the fence would be if it had not fallen down. Everything was gone. It was impossible to see the fields. It was impossible to see across the fields. The hills had disappeared. Waterford did not exist. The Knockmealdowns did not exist. By the time I drove back from the village with the newspapers, I was in a little tunnel of light fog. It was already lifting a little then, but it was 11 o'clock before it burned off completely.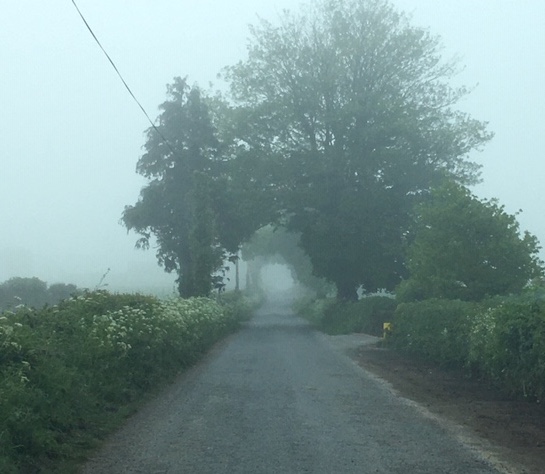 10 May Sunday
The boreen is becoming more narrow by the day. It is closing in. The stitchwort and vetch and bluebells, violets, primroses and ferns are all getting overwhelmed by cow parsley. The cow parsley is lining the boreen and taking over the ditches. It is frothy and soft and nothing else has a chance to be seen. Every year I delight in driving through it while it rubs both sides of the car. It is like going through a car wash without any water.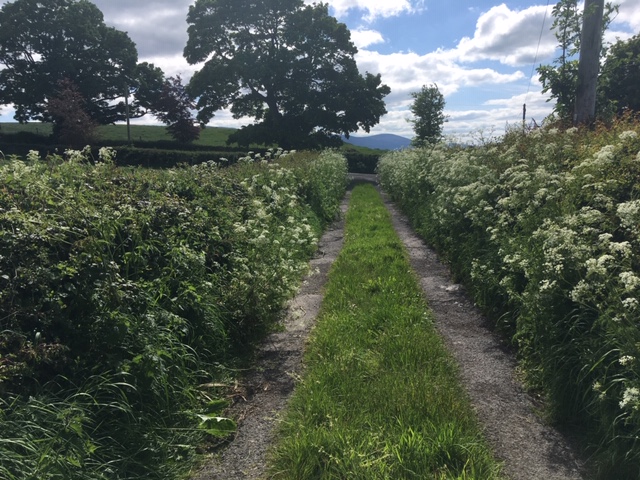 11 May Monday
I have been wearing a few garments again and again and again. A thin black cardigan is a favorite. It is full of moth holes. Some of the holes are large because I have washed it and worn it and washed it and worn it again. The holes get bigger and bigger. There are no longer moths nor eggs anywhere near it. They have done their damage and they are gone. I wear it every day and I layer more things on top of it if it is cold and if the day gets hotter I take it off. A few days ago I walked in the mountains wearing shorts and a tee-shirt. I did not need that sweater or any sweater at all. Today is not like that. Today is cold and there is a vicious wind. I went down to the shop to purchase a few things. As I left, a woman followed me from the hand-washing station outside the door to my car. I do not know this woman except to say hello to. Sometimes we comment on the weather to one another. That is as far as our relationship goes. I am not sure what her name is but I think I know where she lives. She is an older woman but I do not think she is as old as she looks.  If she is as old as she looks, she should not be out at the shop, but staying at home and cocooning. She spoke to me from the required distance. She said, "I do not want to interfere but I could not help but notice your moth holes.  I have a solution for that if you want to know it." She did not wait for me to respond. She kept talking. She said, "Since your sweater is black you must only ever wear a black shirt underneath it. That is the trick. That way no one will notice the holes and you will get a few more years out of it." I thanked her for the advice and she nodded quickly as she turned and walked away.