The Hedge School
by
ericavanhorn
25 January Monday
No one wants to go to the dentist. This new variant of the virus from England is rampant. Everyone is nervous. I had an appointment with the dental hygienist. I rang up to cancel. The receptionist did not seem surprised. She sounded as though she was waiting for my call. She told me that everyone is cancelling. If a procedure is essential or if it is an emergency, people are willing to go to the dentist. If not, no one wants to go. I heard on the radio that the government is considering employing dentists to take on the job of vaccinating people. At least then they will have something to do.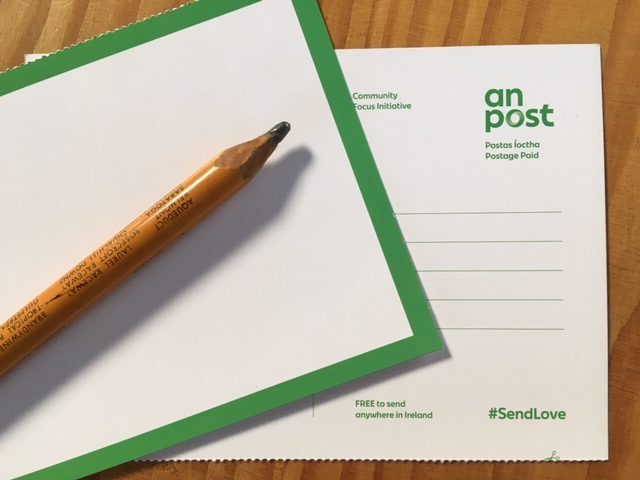 26 January Tuesday
Derek delivered new postcards. They are a gift from An Post. The ones sent out to us during the first lockdown were big and glossy and the pictures on them were not good. This new offering is smaller. Each one is the size of a normal post card and it is on better card stock. It is not glossy. The best thing is that the front side of these new cards has no image on it. It is just white with a green edge. The blank card gives us a chance to write or draw or glue something onto it as we wish. We can post our cards to anyone on the island of Ireland, North or South, for FREE.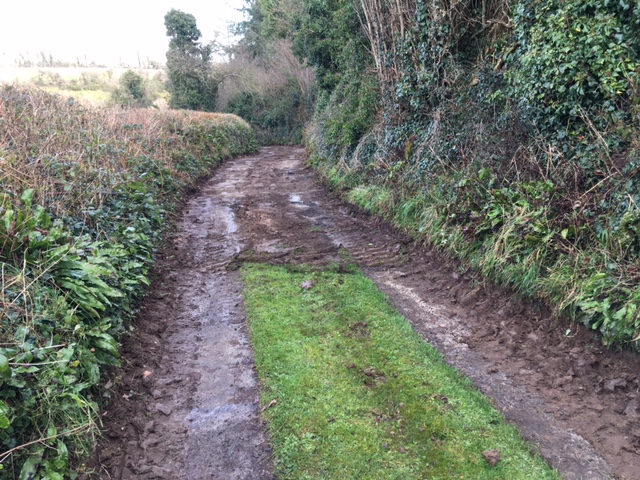 27 January Wednesday
The digger arrived at 8.30 on Monday morning. The grass was scraped and removed from the middle of the boreen. There were two men on the job: one with the small digger and the other with a larger machine. He collected the grass and soil and stones and took it all away. We were trapped for the day, as anticipated. In the morning they cleared as far as the gate into Scully's wood and after returning from their dinner, they did about half way in from the tar road. I think that their plan was to meet in the middle. The men did not come back on Tuesday but they left the digger and three kinds of shovels and scrapers up at the farm, so we knew they would be back.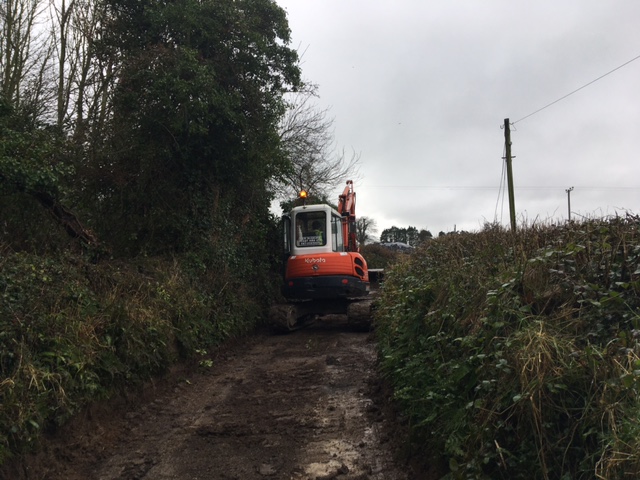 Today they reappeared and finished the entire road. On both Monday and Wednesday Derek handed our post to the man in the small digger. The digger is small but it is still as wide as the boreen. There was no way for Derek to get by. The man delivered the letters and packets to us himself rather than backing up to allow the post van to drive down and then to drive back up again. I am sad to see the grass gone. The primroses will not be blooming down the middle this spring, but I feel certain that they will return next year. Or the year after that.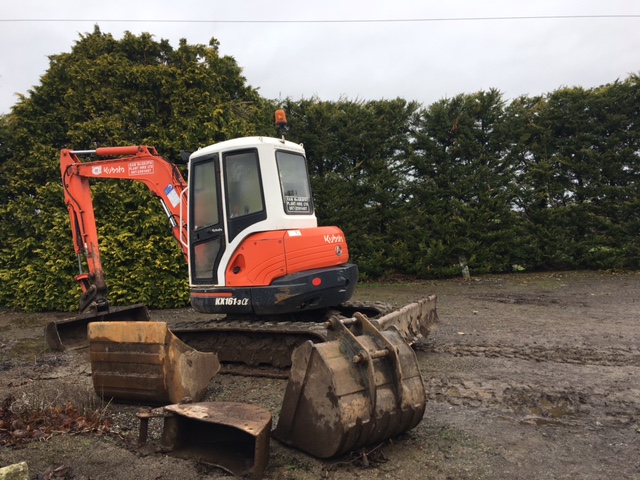 28 January Thursday
The butcher was a thin nervous man. I asked for a shoulder of lamb. He quickly directed my attention to a silver tray with three lamb kidneys in one end. The rest of the tray was heaped with tiny tiny pieces of diced lamb shoulder. The pieces were so small I did not know what they might be useful for. The tiny cubes of lamb were too small for stew. They were too small for anything. They looked like pink peppercorns. I wondered if they were a mistake. He suggested that I might prefer the diced lamb shoulder rather than the entire shoulder I had requested. He was disappointed when I thanked him but said no.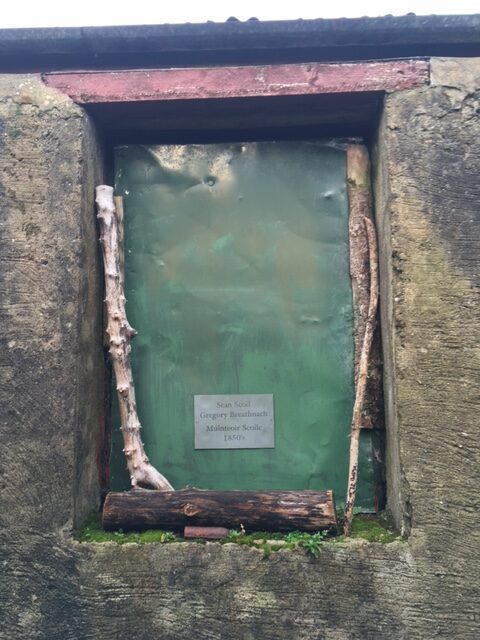 29 January Friday
Walking up Bahernaugh in bitterly cold sunshine, I decided to continue as far as the old hedge school. The road is now impassable by car, and it was rough uphill walking. The old man who used to live up there died last year. He was in a care home for a year before that. There are plenty of sheep in his fields. I think they belong to his cousin Michael.  The house and the sheds are closed up and looking sad, but the little sign is still on the blocked up window identifying the one building as a school.
30 January Saturday
The Garda are everywhere. They continue to surprise. They are fining people for going too far from where they live. We are still in lockdown. The end date of this lockdown was scheduled for today but that date has changed. It is now tentatively planned for 5 March.  That may or may not be the date when we are allowed more freedom. We can only go 5 kilometers from home for exercise. If we go any further than that we must have an essential reason:  food or medicine or a medical appointment. There is nothing open so there is nowhere else to go anyway. People no longer get warnings. We are now being fined for going too far from home.  Five cyclists in fancy lycra gear were given fines. Five men. Five fines. It was obvious they were on a long cycle ride as a group. No one dresses up like that to go only five kilometers.  One man was fined for having a passenger in his car who was not someone he lived with and who had no reason to be in the car with him. The radio is full of news of these fines. It is making us all stay closer to home, which is of course the whole point.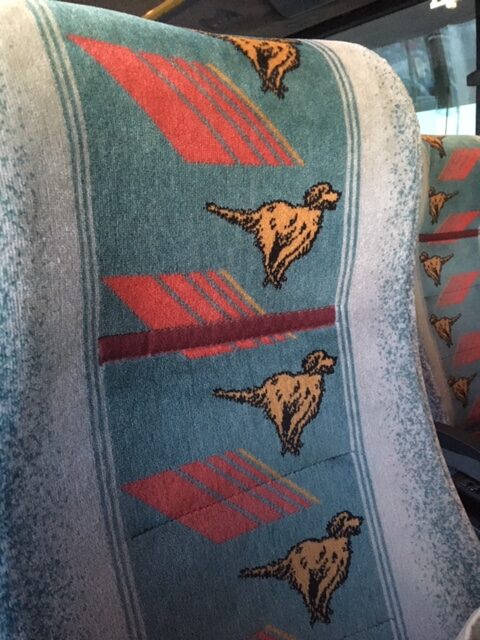 31 January Sunday
We think about being somewhere else, but of course we cannot go anywhere. This is a recurring theme.  We prepare food from different cultures and we listen to music from far away. We watch films and we read books in order to transport ourselves.  We want to travel, but we recoil at the idea of boarding a crowded plane, train or bus to go anywhere at all. A seat on a bus is not a place where anyone wants to be these days, even if the bus seat is one of the newly upholstered ones on BusEireann.  The running red setters are so cheerful. They suggest great speed and momentum and joy.
No.  A seat on the bus is not a place where anyone wants to be these days. As an healthy option, my book BY BUS, written pre-pandemic, when we were able to roam freely on buses, is now published by UGLY DUCKLING PRESSE in Brooklyn, NY. This book offers the reader multiple journeys by bus, without the need to wear a mask.  It is now available to order with a pre-publication discount: