Relief Milker
by
ericavanhorn
24 February Wednesday
The internet man visited and he told us that another man would be coming to check out our location for reception and to install the service. We expected the man on a Saturday but he arrived today because the weather was good. He told us that he is a farmer in Cork. Before becoming a farmer, he had been in the army. That was where he trained in orienteering. He claimed that he is a Good Man To Read The Land. He used powerful binoculars to locate and determine that our house is not in a direct line with the nearest mast. He said that was not a problem and that he would be able to bounce a signal off the house of a man named P.J.O'Neill across the valley. He got things set up quickly with a small dish. With his knowledge of land, he does this installation of Line of Sight broadband for the internet company as a second job. Right now is his busy time on the farm because all of his cows are calving. We were lucky to get him between the calves and between the downpours. He left his wife in charge of the birthing today. He said she is well able for it, but the rain and wind are a different and less predictable thing altogether. Suddenly we have really fast broadband. We have a three week trial period, but already, after a few hours, this is faster than anything we have ever experienced here. We knew our internet was bad but we did not realize how truly dreadful it was until now, when it has come good.
26 February Friday
We walked up past Lady's Abbey. I detoured in to look into the roofless area of the old Abbey and to check for the red chair. Someone had tried to set it on fire a few months ago and I wondered if since then the whole chair had been removed or if it had been completely burned. I was surprised to find neither thing had occurred. The chair was back in the small room exactly where it had been before someone tried to burn it.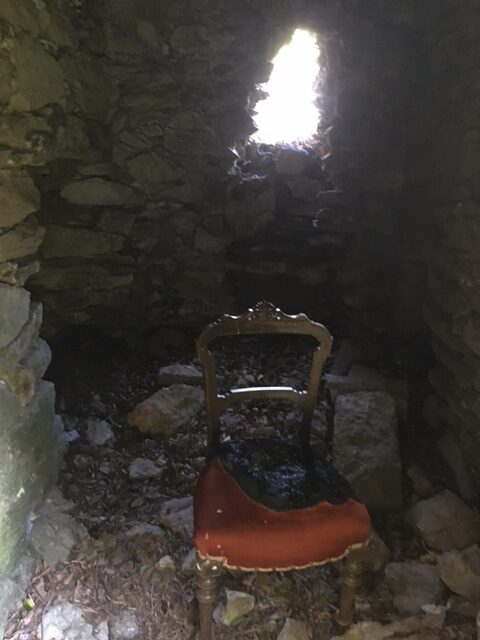 28 February Sunday
There are loads of daffodils everywhere. And crocuses. And wild garlic. I saw the first primrose today.
1 March Monday
We woke to a thick white cold fog over our world. I went down to the book barn to look for something and found there was no electricity in one end of the barn. We thought a fuse had tripped but finally we decided it was probably mice who had chewed up some wires under the floorboards. We tried different experiments and we went up and down with extension leads and then I had to fix a cardboard box that collapsed when I leaned too heavily on it and I was sweeping up mouse poison that was scattered all around but had not been eaten. I was rushing because it was cold and because suddenly there were so many things to take care of. I went back and forth between the two barns and the house.  Simon was making multiple trips too. The postman arrived at about 10 or maybe it was 10.30. I had been so busy that it was not until I was standing and talking to him outside that I realized that I was still wearing my pyjamas and my dressing gown with rubber boots, a big scarf and a wool hat. He did not seem to notice.
2 March Tuesday
The mornings remain icy. The grass was white with frost, as was the roof of the barn. The field was white. I looked out the window as I waited for the kettle to boil. The fox was moving slowly uphill. He turned and looked in my direction. It would be nice to think that he saw me at the same time that I saw him but really he was just looking around.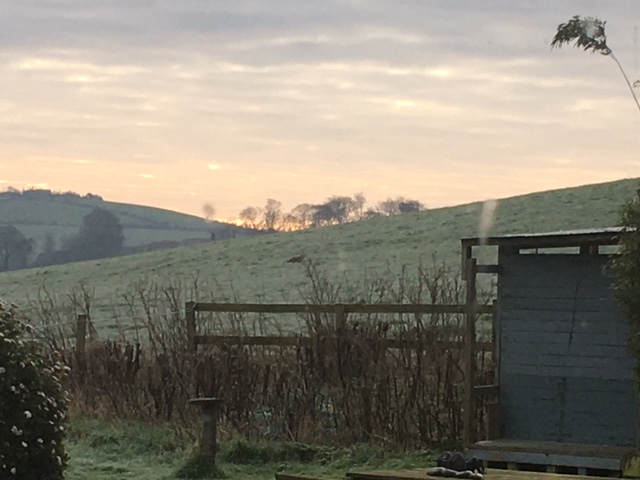 3 March Wednesday
The Donegal Postman is the man who most reliably predicts the weather. Word is already out that he is promising that April and May will be fine.
4 March Thursday
On the good days there are already cows out in fields. It is lovely to see them again. I did not realize how much I missed seeing cows on the land. As always, they have been under cover all winter long. Today I had to pull over in the car to wait while the McGrath's cows walked up the road from a far field to their milking barn. I was happy to wait.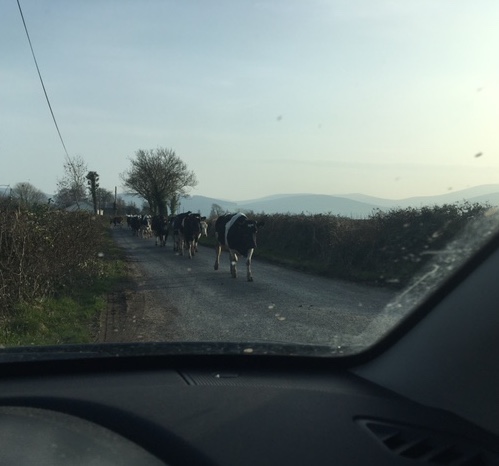 5 March Friday
Throughout this pandemic we have read about people ordering Take Away food. We have heard reports of people living on nothing but Take Away food. Food delivered to the door has not been an option for us. There are few restaurants and they are all closed anyway. And no one wants to deliver anything down our dirt track. We read about a restaurant in Tramore that has been delivering fine food all over the country. We decided to see if there was any chance we might receive their offerings. A restaurant in Dublin or Cork would not consider delivering to these parts, but we hoped that Tramore, which is only 43 kilometres away, might do so. It has been a year since we ate any food besides that which we have prepared for ourselves. The Beach House said delivery was no problem so, as directed, we ordered on Thursday the 25th for delivery on the following Friday. Today.
After lunch this afternoon we received notification that our package had been damaged and that the recipients had refused delivery. We knew we had never been called nor had anyone arrived here, so there was no way we could have refused delivery. After various phone calls and emails with the owner of the restaurant we all recognized that the problem was with the courier service. All deliveries are in chaos over the entire country. Mike told me he waited three weeks for an automobile part to arrive from Ringaskiddy. We were refunded and we are now promised delivery of a free meal on the 19th of March. We will be invited to choose from the menu next Thursday. Peter the owner was very upset that our food had not been arrived. He said they have delivered things as far away as Donegal and Galway with no problems so Tipperary should offer no difficulty. It takes less than a hour drive to Tramore but since we are still unable to travel more than five kilometres from home, it might as well be the moon. It is hard to imagine people living in a city waiting nearly four weeks for a takeaway supper. We are not unhappy to wait. We hear nothing but good things about this splendid food.
6 March Saturday
The birds cannot get enough to eat. I am constantly filling the feeders. There is never enough for them to eat. Some days I chop up an apple and leave it on their table. Other days I leave crumbs or some oat flakes. Whatever I put out disappears immediately.  Whatever I put out is never enough.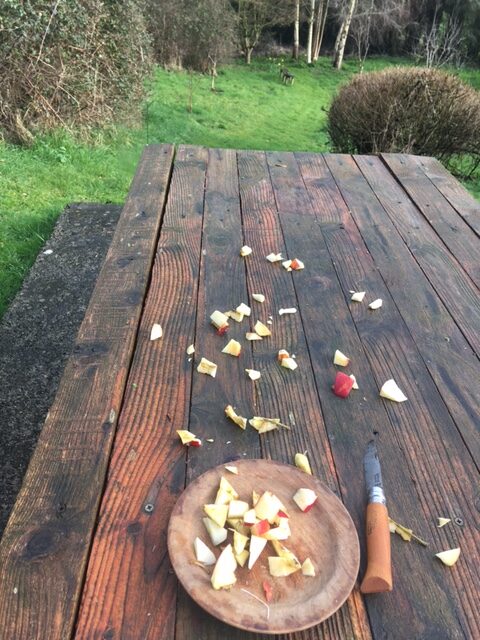 7 March Sunday
A Relief Milker is a someone who goes and helps out on a farm on either an occasional basis or on a regular day or for part of a week. He does the milking and whatever other jobs need doing. A lot of young men move around the country side helping out on farms. Sometimes it is older men but mostly it is the younger ones. Today I saw a fellow getting into his car down in the village. His services were advertised in the dried mud on his door:
G.BYRNE
RELIEF MILKER
AND ALL ROUNDER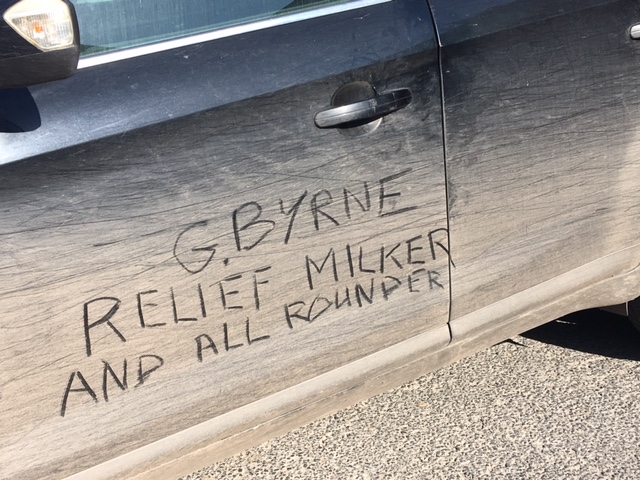 8 March Monday
Rain. Sun. Rain. Sun. Rain. Rain. Rain. Sun. Wind. Rain. Every day is a wild thrashing of in and out weather. We live within the weather. The sunny moments can be hot but the rain can quickly turn to sleet. The wind has been so loud it is difficult to keep the sound of its roaring out of our ears even from inside the house.
9 March Tuesday
The little notification from the national network is always visible on the upper right hand corner of the television screen. It reads STAY AT HOME. We will know that things are normal again when this message is no longer visible.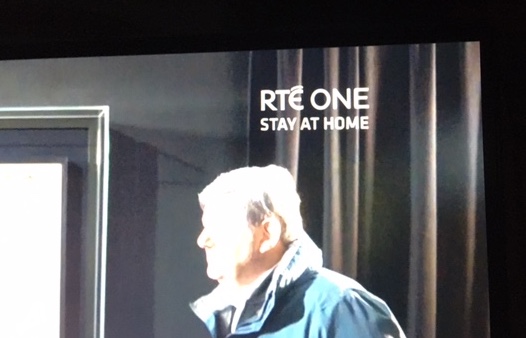 10 March Wednesday
The jewellery shop in Cahir is not open. By law, the shop is not allowed to open. It is not an essential business. I needed a battery for my watch and the jeweller told me to ring him when I was in front of the shop and he would step outside and give me the correct battery. His shop was not open but it was open.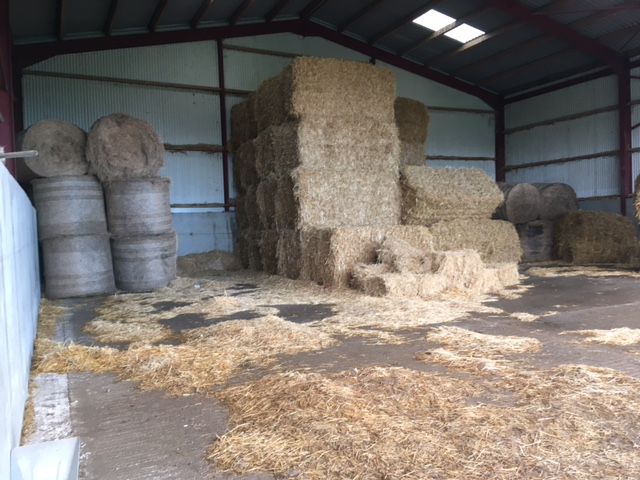 11 March Thursday
Breda and Siobhan and I walked down the field track at Molough. We knew we were taking a chance. Rain and gusty winds arrive without notice and every downpour is a heavy downpour. We wore full waterproofs and we took our chances. Torrential rains came down twice. And each time there was a one of the two big sheds available to step into. One was echoing and nearly empty as most of the winter hay has been removed. The other shed at the bottom of the track had large pieces of machinery, none of which we were certain about the function of, but it was pleasant  to look at them and to discuss their possible functions while we waited for the rain to clear again.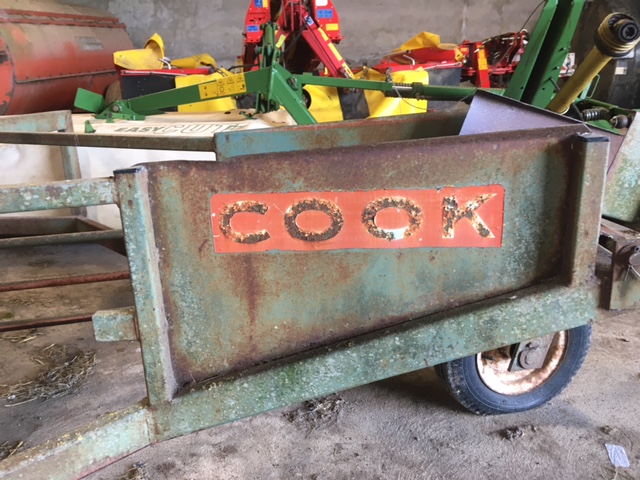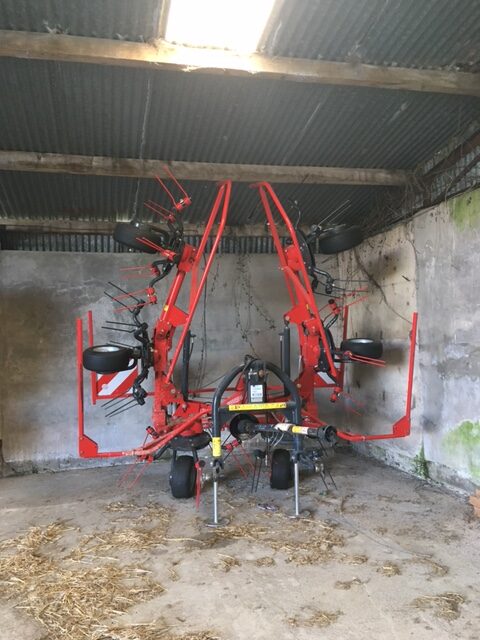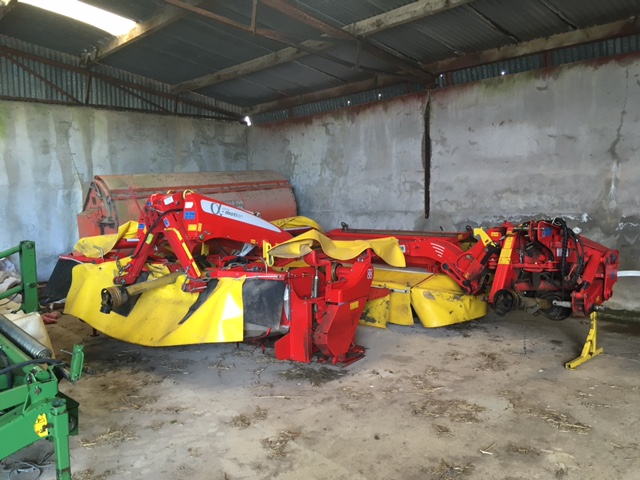 12 March Friday
We have had 10 weeks of lockdown since Christmas. The new possible deadline is early April but no one believes that we will actually be released then. The vaccine is rolling out slowly because the supplies are not arriving into the country. Everyone is weary of all of this.
I heard two men talking with the distance of a pick-up truck between them. They were wearing masks and they each had a big woolly hat pulled down low. Their conversation was loud. They were both shouting to compensate for the muffling by their face masks. It was a continuation of the on-going discussion between people of who lets their wife or their husband or their partner cut their hair. One of the men said that he had finally agreed to let his wife cut his hair but he would not be letting her loose to cut the grass.
13 March Saturday
I return home from my walks with my pockets full of lichen. I might fill one pocket or I might fill two pockets. I do not need this lichen but I love the silvery look of it on the ground. I am obsessed with lichen. I love spying it among the other vegetation and I love collecting it. When I arrive home with two pockets full I feel wealthy. I fill bowls with the lichen and I leave it on a windowsill to dry out. When that bowlful gets dusty, I throw it out as there is always more to collect. Now I am coming home with my pockets full of wild garlic. There is so much of it popping up every day. It is more useful and of course more delicious than the lichen and it is beautiful, but maybe not as quite as beautiful.