The Fever Hospital
by
ericavanhorn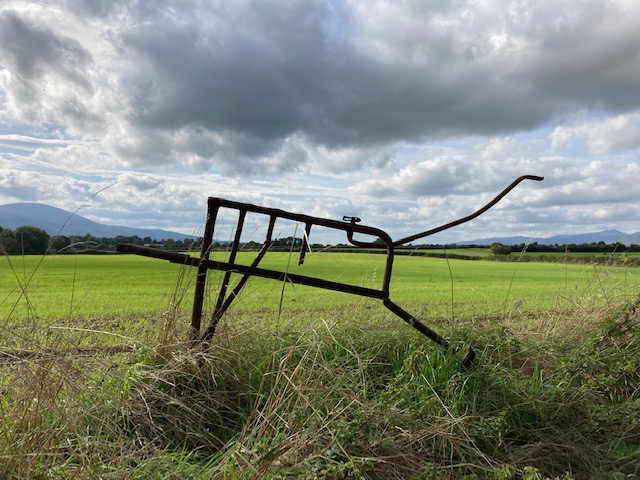 9 September Friday
I overheard the woman as she explained to someone on the telephone that a boreen is a small road that ends at a single house. I do not think this is correct but I felt it was rude to question her. She was not even talking to me. To be considered a boreen, a road or path should not be wide enough for two cars to pass and it should be unpaved. Usually it will have grass growing in the middle. Basically it is not much more than a cow path but it should be no wider two cows, or one cow standing sideways from nose to tail.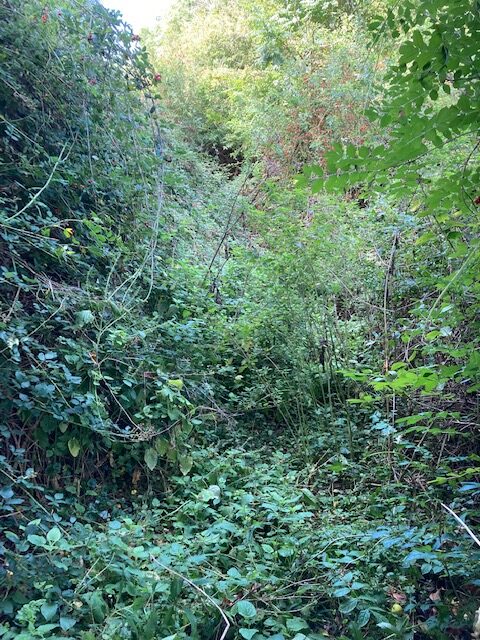 10 September Saturday
I tried to walk up the Mass Path to Johnnie Mackin's, but one third of the way up, I was met with a complete blockade of growth. Nature has taken the path back. It will take more than me and my hand-held secauters to clear it.
12 September Monday
A man named Free was bemoaning that he misses going out for a pint. Free is short for Geoffrey. Free said that he likes to go to the pub. He likes drinking a pint in the company of someone he meets at the pub. He likes the meeting up with someone he did not know he would be talking to when he left home. He said that he cannot go to the pub anymore because the Guards are everywhere and he might be stopped after only one pint and then where would he be with no car and no way to get anywhere at all? He said that almost more than drinking a pint, what he likes is the chance to hear a bit of a story or maybe a lie. He claims that a lie is just as good as a true story, if it is told well.
13 September Tuesday
I drove Tommie to town and deposited him in front of the door at Dunnes Stores. Dunnes is his preferred shopping destination. I parked the car and fetched a trolley for him. I left him in the fruit and vegetable section. When I returned with my own trolley and with both my shopping bags and his own shopping bags, he was still standing where I had left him. A woman was talking to him intently. His walking stick was in the trolley and for now the trolley was his support. He introduced me to the woman and after a polite amount of time, I set off to do my own shopping. I peeked back at his location a few times. The woman was a real talker. He finally broke loose from her and started on a slow trawl for his messages. I caught sight of him here and there down the length of an aisle and I saw him chatting with other people. Before I got to the cashier with my finished load, the woman who had trapped Tommie for so long stopped me and started to talk. She told me everything that she and Tommie had discussed and she explained how she knew him and she kept me standing listening for too long too.
Eileen Condon cooks and delivers Tommie's dinners to him every day. She provides mighty portions so he usually has enough left over for his tea. There is not a lot he needs at the supermarket but he likes to go because a trip to the supermarket is social as well as useful, and now, without a car, it is more important than ever for him to get a trip out of the house. He buys boxes of chocolates in case any children come to visit. He has developed a taste for smoked salmon so he buys that along with razors and laundry soap. Every purchase is carefully considered. I took our messages to the car in two trolley loads, first my trolley and then his trolley.  Then I drove over to collect him in front of the doors. He and another man were talking animatedly and blocking the way for anyone going in or coming out of the store.
On the drive home he told me that talking so much at the beginning of the shopping had confused him and he claimed that because of that woman, he lost his stride. He described each person he had met and how he knew them and he said that the last man he spoke in front of the store had been an Irish language teacher in the village and later at Rockwell College. He was happy to have met that man. Now that he was sitting down again, he said he was pleased to have had all the conversations and he was pleased to recount everything to me.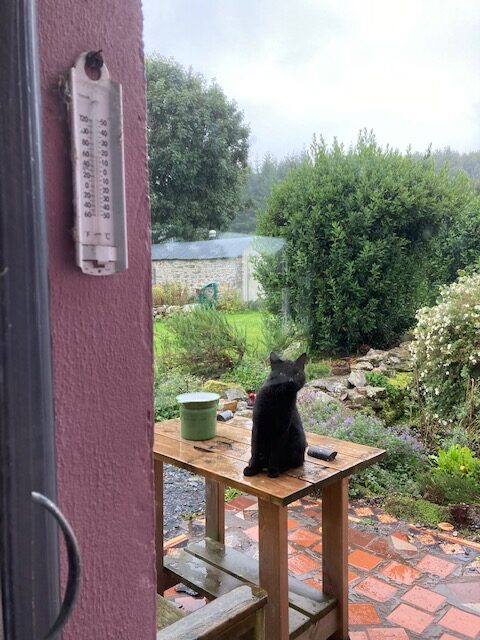 15 September Thursday
The Black Cat spend a lot of time up on the table outside the kitchen door. She no longer runs away each time I go near, but she always remains alert and ready.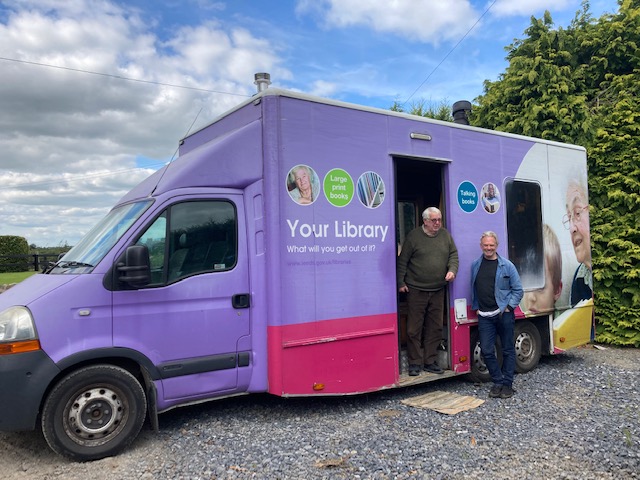 19 September Monday
Greville came to visit us in his Ex-Library Van. It was de-commissioned from Leeds City Council. He bought the van and tore out the shelving and raised the floor inside for maximum storage. The outside of the van still advertises itself as a bookmobile. The inside is a work-in-progress but mostly it is woody wood tone rustic. He has a wood burning stove and a shower and a loo and a bed that flips down from the wall. He has a table with two benches salvaged from a London bus. The benches and the table are screwed into the floor.  Everything is either built in or made to be secured when the van moves. His son is attending the cooking school at Ballymaloe in County Cork.  He could not carry his special knives on the airplane, and he did not want to check them in with luggage, so Greville took the ferry and drove the knives over from England in his van. The van is too large and too low to drive down our boreen, so he parked up at the farm and slept there.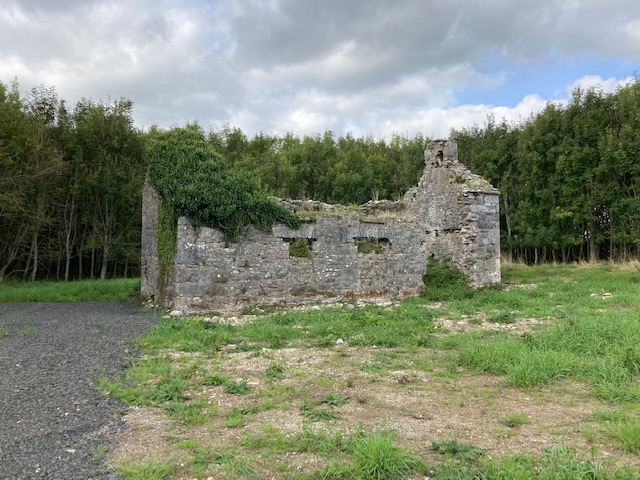 20 September Tuesday
After the many months waiting for my fractured foot to get strong, I have missed many regular walks. Now it feels like every walk is a new walk.  I still favor walking on hard even ground. We walked out the narrow lane toward Lady's Abbey. The sun was warm. It has been a long time since I had been out that way. There was a lot of change to catch up on. Someone has cleared the land all around the the ruin of the old Fever Hospital. Someone else has thrown the old chair with the red velvet seat into the compost heap with dead flowers and other redundant grave offerings at the Abbey. All I could recognize was one leg and a bit of the old seat stuffing.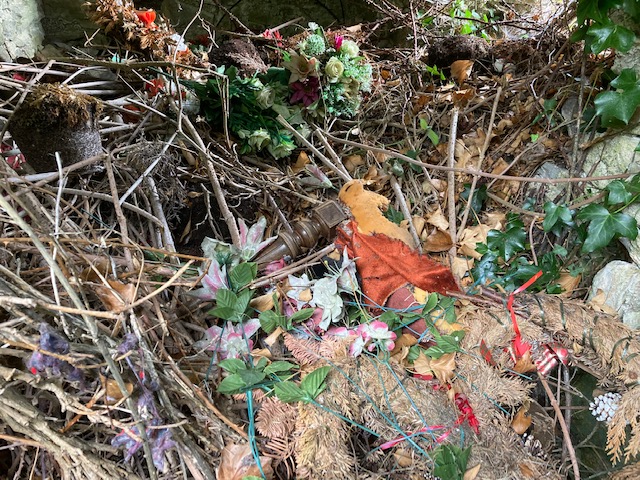 21 September Wednesday
Everywhere there are conversations about the economy and about the fearful shortages to come. The winter hovers ahead as a threat. People talk about The Squeeze. They also talk about squeezing their teabags to get an extra cup of tea out of every bag. It is kind of a joke but it is kind of not a joke. Dijon mustard is disappearing from the shelves of the supermarkets. I do not want to live without Dijon mustard. I love it.  I do not want bright yellow American mustard, nor do I want hot hot English mustard. I want French mustard. Dijon mustard. I want it for my salad dressings and for sandwiches. I need to know it is on my shelf. Between the pandemic shortages and the war in Ukraine, fertilizers have been in short supply. Who knew that most mustard seed is grown in Canada? Canada has been unable to produce the seed so there are empty shelves where there used to be jars of mustard. Not long ago I paid 45 cent for a small jar. Now, if I can even find a jar, it costs 2 euro 60.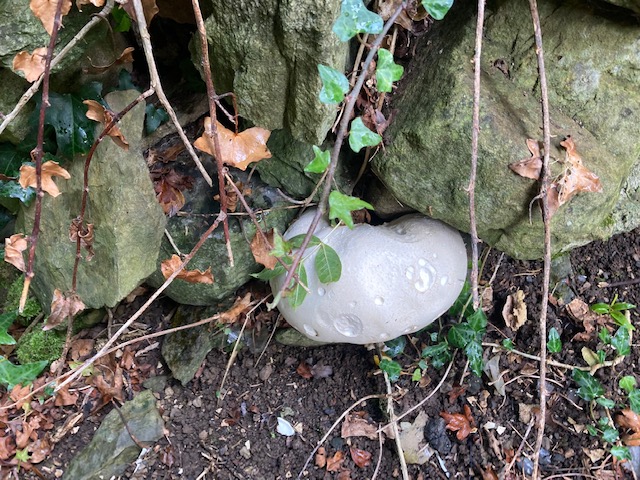 22 September Thursday
I went for a walk after a morning of torrential rain. The afternoon was clear and bright. I found a puffball and carried it home. We ate it.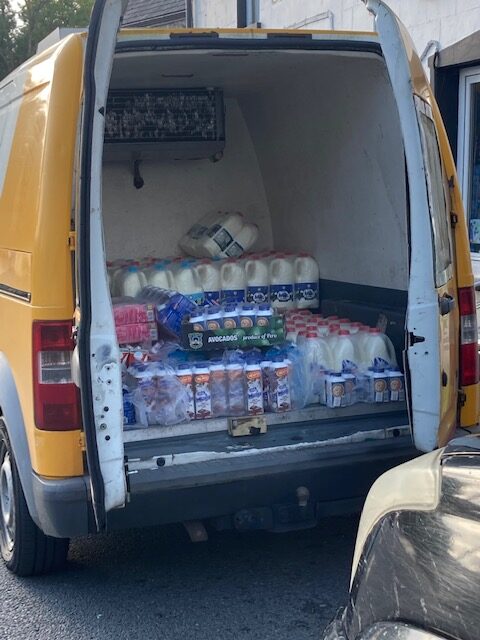 26 September Monday
A small van was delivering milk and dairy products to the shop in the village. The man unloaded some products out of the side sliding door and some from the back.
27 September Tuesday
I went out to pick raspberries for breakfast in a soft drizzle. I tried to pick quickly but the drizzle was deceptively heavy. I came in when I noticed my dressing gown was drenched right through to my pyjamas. I only managed 16 raspberries. Eight for each of us.
28 September Wednesday
After five days, Tommie is still waiting for his nephew to ring and tell him when he is going to drive Tommie to Dungarvan to visit his sister in hospital. She is 90 and unwell. Tommie tells me that his nephew is a man who does not have a Good Word. I did not understand. I thought maybe this meant that the nephew was a mean-spirited man who said unpleasant things. I was wrong. To say He Does Not Have a Good Word means that his word cannot be trusted. His promises are not reliable.
29 September Thursday
Loading up for a dump run tomorrow, I noticed something brown and furry and small on the ground. It was in the open doorway of the shed. I knew I would probably step on in as I popped in and out of the doorway, so I got the spade and tried to pick it up and move it out of the way.  It opened a tiny mouth and screamed.  It was not a dead mouse nor a dead shrew. It was a bat. Another couple of nudges and a couple more screams with bared tiny teeth and it swooped upwards and flew away.