Leave the Hare Standing
by
ericavanhorn
4 April Tuesday
There was one aluminium milk churn in the trailer. It had the number 4 painted on it with red paint. I could not help but wonder where churns number 1, 2 and 3 were.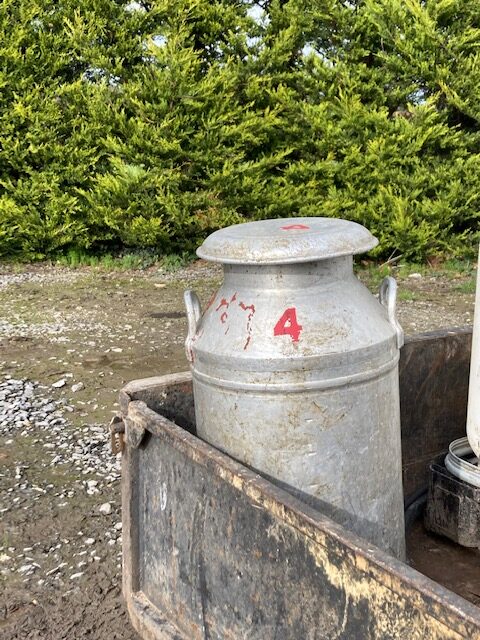 5 April Wednesday
The car died on Saturday. We thought it needed a jump start with cables and then we tried a push.  Nothing worked. Tom Burke came today and loaded it onto a trailer. The car has gone to the Nissan garage in Dungarvan to wait while they hunt for a replacement part.  Unfortunately the part is not easy to find. There are none in this country and none to be found so far in the United Kingdom.  The search is on throughout the rest of Europe. The small piece for the ignition must be replaced before the car can be re-programmed. This tiny little thing is manufactured in Ukraine and the factory that makes the part is not functioning now because of the war.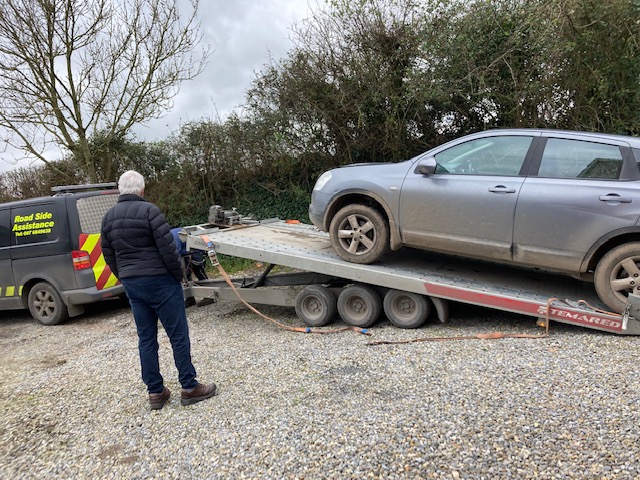 6 April Thursday
Breda saw the first swallow of the year today. Breda always sees the first swallow well before anyone else does because she focuses and pays attention and she is looking looking looking for the swallows to arrive. She has a calendar on which she marks her initial sighting every year. When she announces her first swallow, she usually reports on what day it was when she saw it last year too. Not only was she the first person to see a returning swallow once again this spring, but she saw two of them.
7 April Friday
When the doctor told me that we would Leave The Hare Standing, I had no idea what he was saying to me. I was not sure whether he said Hare or Hair. He was surprised by my confusion and said that it was of course Hare. The Hare has a sacred position in Celtic history. It is a mystical symbol of abundance, prosperity and good fortune. The animal is treated with great respect and it is never eaten. To Leave the Hare Standing, or To Leave the Hare Sitting is a way of saying that we will leave things as they are. We will leave well enough alone. It means that there is no reason to upset things. To Leave the Hare Sitting is literally to show the animal its due respect.
8 April Saturday
A bird has appeared in a garden on the walk down to Molough Abby.  It is an old, stuffed and moth-eaten bird. The entire chest feathering has been ripped off and hangs off the bird. Maybe it is a female pheasant?  It is hard to tell what it is, or rather, what it was.  It stands on a small broken branch on a wooden base.  It was made to stand on a shelf or a mantle piece but now it has been relegated to the garden along with a ceramic chicken and a plastic cat.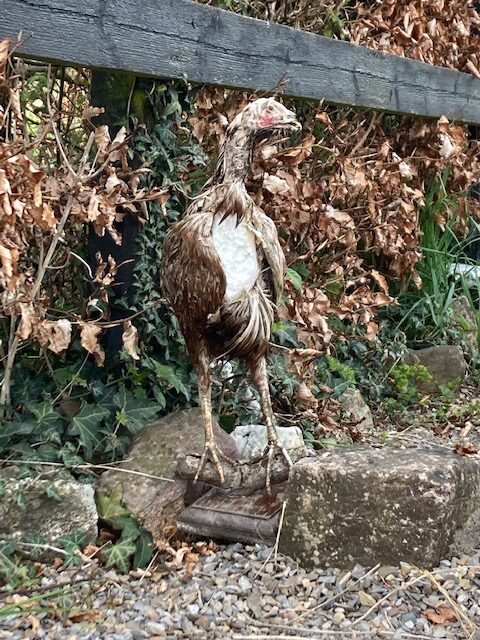 9 April Sunday
Mary the Black Cat comes down to visit and to wait for some food but she does not appear every day. Sometimes it is every third day.  Sometimes once a week.  She is looking scruffier than usual and her hair is matted down, but she is less obese.  I have seen two small black cats up near the farm so perhaps Mary has had a family.
10 April Monday
This weekend the village of Newcastle celebrated the 100 year anniversary of the death of Liam Lynch. Lynch was a General in the Irish Republican Army. He was shot in a skirmish in the Knockmealdown mountains where there is a monument to him. Every year, a wreath laying ceremony is held up there. For this centenary, there have been three days of events, with a Mass in the church, a pipe band procession, the laying of the wreath at the monument and a special bus to take people up to the monument. There were speeches and musical entertainment and a visit to Nugent's Pub where Liam Lynch was laid out on a couch after he was brought down from the mountain in a bad way with gunshot wounds. From the pub, he was moved on to the hospital in Clonmel where he died later that day. Rose still has the couch in the same position as it was on the day that Liam Lynch was laid out upon it. The cushion has been repaired a few times. Rose is always willing to take interested visitors into the back room to view the couch. A commemorative plaque has now been placed on the outside of the pub. The Historical Society produced a postcard to celebrate the the role of the couch in this historic death.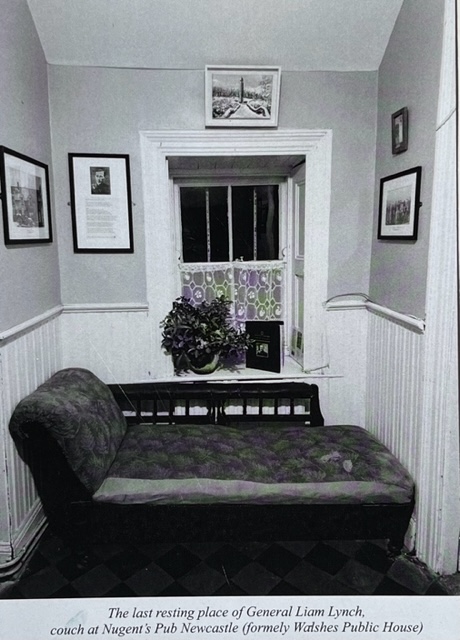 11 April Tuesday
Terrible thrashing rain. ALL DAY. The only word for it is Desperate. Walking out of the house even a few metres is a soaking experience. The rain is coming from all directions and it is bouncing up from the ground. The boreen is like a riverbed with water rushing downhill and into the yard.
12 April Wednesday
Terrible beating buffeting winds. ALL DAY. The noise inside the house is deafening.The entire country is on Amber Alert. Trees and branches are falling and even the largest of lorries is being pushed around on the roads. People are being asked to avoid driving anywhere if possible. There is still rain falling but mostly it is the wind. The wind is savage.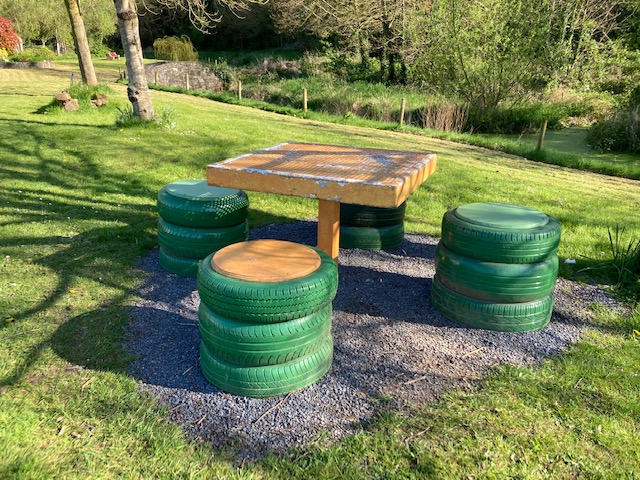 14 April Friday
Ardfinnan is full of homemade chairs and tables as well as any number of decorations that have no practical purpose. The out of doors in the village is cluttered with things. Some are useful and some are just there. I was startled to see a canoe up high on a banking, with three shop mannequins. One is a child sitting in the canoe with a black dog on its lap. One a woman with a paddle, sunglasses and a curly wig. Standing behind the canoe is another woman, with a fishing rod and in a full waterproof fishing outfit. Her waders have been filled with some viscous black material. Tar? I think this is maybe to keep her standing and also to keep anyone from stealing her waders. The canoe is there to celebrate Ardfinnan's position on the river as part of the Blueway.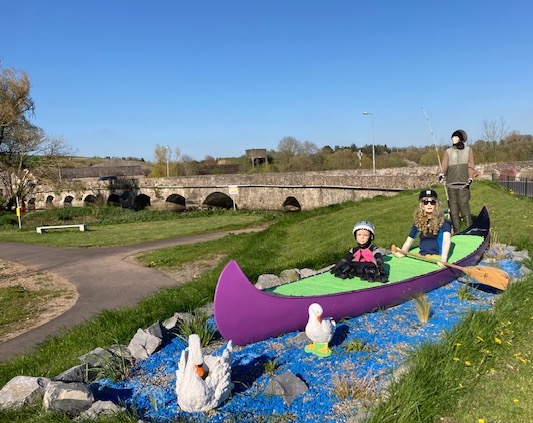 15 April Saturday
Every year, Pat the Fish brings asparagus with him to the Farmer's Market from some people who grow it in Wexford. It is not a large farm and it is not a long season. The asparagus crop only lasts for about eight weeks. Today is the third week. Only five more to go. Every Saturday, I buy three for four of the small bundles. I do not want to be greedy and take too much, but I love asparagus. I feel it is my duty to eat it as often as I can during this short growing season.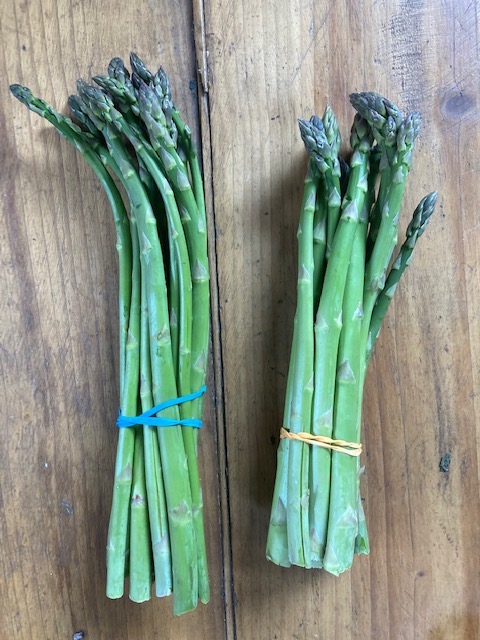 17 April Monday
The daffodils are already gone. As are magnolia, forsythia, narcissus and the flowering currant. But there are more visible blossoms everyday so we scarcely notice those that have died back. Dandelion. Stitchwort. Apple. Cherry. Plum. Primrose. Forget-me-not. Hawthorn. Bluebell. Lesser Celandine. Gorse. Tulip. And now, the bright star-like bursts of the wild garlic blooms.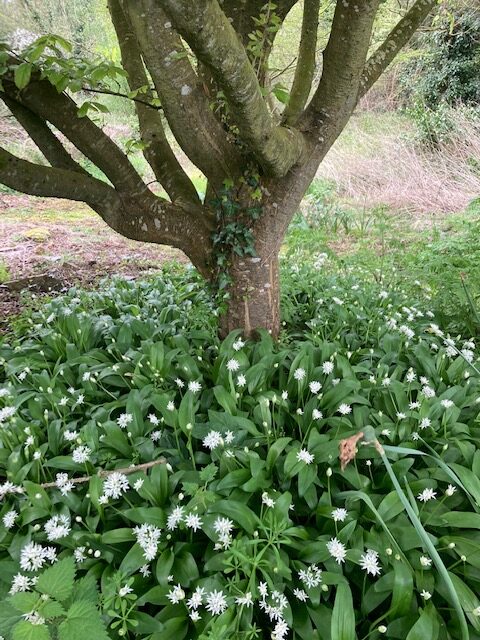 19 April Wednesday
This is the time of year. The days are warmer and the nights, while still cold, are warmer too. Any time after dark, I walk into the bathroom extremely slowly. I enter quietly and I look around carefully. This is the time of year when slugs begin to appear. I am not certain how they get in. They are not visible in the daylight. They hide in dark places until night when they begin to ooze around the room. I can see the trails they leave across the mirror when the room steams up. I enter the room quietly and look carefully everywhere so that I can see a slug before I can be surprised by one. I doubt they can hear me but for some reason I feel a need to move very silently.
22 April Saturday
Heavy white wet fog over everything. The morning is thick with it and even with headlights on it is hard to see much of anything.